Where do you go when you have a bizarre ailment? Your doctor perhaps? Urgent care? Well, hopefully, but for most of us, the first stop is Google. Which is why Google's new health-related search feature is genius. And from a healthcare marketing perspective, the Mayo Clinic's partnership in it even more genius.
So let's say you're googling Ebola. Rather than sifting through the myriad of articles trying to find a relevant one, you can first review the basic facts in an expanded box alongside the Search results (as long as your ailment qualifies as one of the top 400 medical conditions that is). And who do you think the medical facts come from? The king of all things medical, of course – the Mayo Clinic. In fact, the information is culled from the web, verified by an average of 11 physicians, and signed off from Mayo docs. This includes condition description, symptoms, treatments, and perhaps an illustration. Mind you, the content isn't native advertising or sponsored content. It's prime real estate earned by the nation's most reputed healthcare source.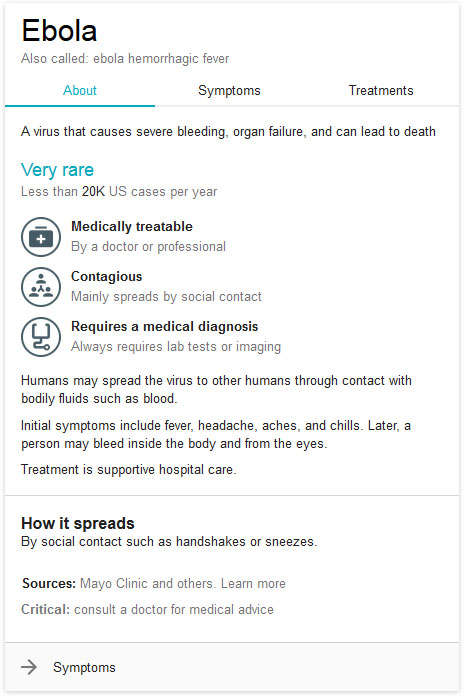 It's actually kind of a Wikipedia at your fingertips — quite literally, as the design is focused on mobile. Since 1 of every 20 Google searches are health-related and over half of these are done on mobile devices, it will be a much appreciated and useful feature.
Kudos to Google for their socially responsible solution in trying to lessen misinformation by presenting healthcare information in a better, more accurate manner. And kudos to the Mayo Clinic for once again assuming the role as the ultimate authority for health information. Consumers thank you. And docs reaping the benefits of more reliably informed self-diagnosers entering their patient rooms will thank you even more.