There will always be those woman-only products that you can market without giving men a second thought: maxi-pads, push-up bras, remedies for PMS, etc. Similarly, some products can be marketed to men and men alone—aftershave, athletic supporters, and so forth. But as men's and women's roles become less rigidly defined, there are fewer and fewer such products. This presents both new opportunities and new headaches for advertisers.
Case in point: Miller beer. Their Miller64, the lightest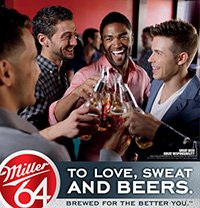 of the light beers, is considered by many men to be a "chick beer" (not to be confused with Chick Beer, an actual brand of beer marketed directly to women). To give an idea of what Miller is up against in marketing Miller64, one YouTube commenter, having seen a 2009 TV spot for the beer, scoffed, "Real beer for real men, none of that watery nonsense." Yet Miller apparently believes there is a male market for this beer, men who care about watching their weight.
So what to do? Scantily clad babes and he-man hunting trips will only turn off women consumers. But many men are loath to even admit they count calories, let alone drink a "girl" beer. Miller's answer: hide the low-cal, light lifestyle message in a manly drinking song that sounds like something drunken pirates would bellow on the open seas. The lyrics are modern enough:
We run a mile before breakfast
Sure, I had a salad for lunch
But a Miller 64 at dinner
Oh yes 'cause I've worked on my paunch
But the melody and the voices are pure testosterone.
The folks at Yoplait answered their man/woman marketing dilemma in a different way: they simply made two different commercials. Today's new dad doesn't just mow the lawn and work on the family car. He's a kinder, gentler dad, who shops for groceries and even packs the kids' lunches. Which is why Yoplait needs not just one but two different spots for their Gogurt squeezable yogurt tubes. One spot claims that "Moms who get it, get Gogurt," and the other, "Dads who get it, get Gogurt."
Note, however, that despite their enlightened approach, Yoplait can't quite resist falling back on the tried and true "clueless dad" trope; unlike the perfectionist, über-efficient Mom, Dad requires a full pad of sticky notes to remind him to pack Gogurt into the kids' lunches, including one from his wife (who still knows best, after all).
Clearly, when it comes to marketing one product to both men and women, advertisers are still feeling their way. Is it possible to effectively market to women and men with one spot? Or do you think Yoplait has the right idea?