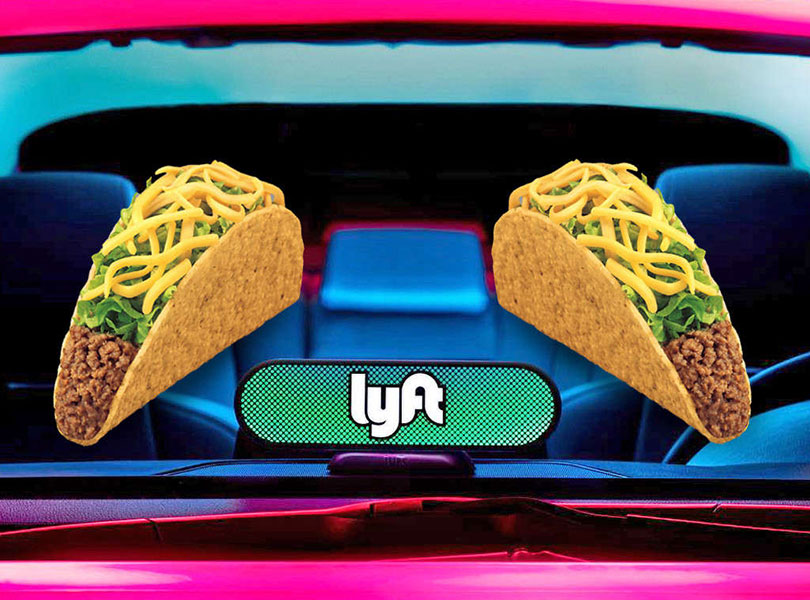 What do Lyft and Taco Bell have in common? Late-night customers.
The ride-hailing company and fast food chain put passenger and diner together after months of informal research. Introducing "Taco Mode," an in -app option for Lyft passengers.
"We realized that for every person who has asked their Lyft driver to make a pit stop at Taco Bell — and we've seen many—there are likely those who weren't sure if this was possible," Taco Bell CMO Marisa Thalberg said in a statement. Late-night eaters are a key audience for the chain.
When Lyft passengers select Taco Mode a pit stop to Taco Bell is added on the way home. Taco Mode also features a custom in-car menu, free Doritos Locos tacos, and a taco-themed car.
While tipsy consumers may celebrate, Lyft drivers are less enthused. Typically, Lyft drivers are paid by the mile not by the watch. That means they aren't getting paid when lingering in the drive-thru lane.
"That Lyft might go ahead and do this—encourage riders to do something most drivers dislike doing—without offering drivers an incentive or otherwise communicating to us what the plan is pretty bold," one Lyft driver told Business Insider." This is Uber type behavior, and I don't think even Uber does stuff like this anymore."
Still, Taco Mode is on track to expand services across the U.S. in 2018—but it will be completely optional for drivers (GrubStreet.com, 26 July 2017).
If you like food trends, check out "The Foodie Generation: Millennials force the food industry to face the facts."