The music festivals of 2013 can teach us a thing or two about social media. Bonnaroo, Lollapalooza and smaller festivals know their young target audience and are taking social media and running with it. They've created an entire culture and use social media to disseminate it – from Instagram to Youtube, festivals are connecting to fans in new ways. I've noticed a few things that other brands can learn from festivals when it comes to social media:
Give people a reason to keep coming back. I like how Coachella's Facebook and Twitter accounts keep the conversation going by asking fans about their favorite artists, festival fashion and more. Posts can gain over 5,000 likes, and hundreds of comments and shares. The pages engage users beyond event/product based content.
Festival social media is also employed for sharing tips and tricks. Bonnaroo's Facebook page is full of festival veterans giving ideas and reviews to first timers. Bonnaroo is encouraging fan to fan interaction which is more valuable than just the brand speaking – 70% of people trust online reviews over paid media.
Finally, festivals use social media for more practical reasons. Lollapalooza in 2012 used social media to communicate a huge storm coming to the area and told people what to do/where to go. These "emergencies" can happen to any brand and social media can be the best way to reach everyone at once.
Build suspense. This is the smartest thing that festivals are doing these days. For the whole year before the event, Facebook pages are getting fans pumped up. MoPop Festival had a weekly countdown to the day of the event, gave clues to the lineup and posted teaser statuses before announcing their schedule. For Bonnaroo's lineup announcement, they live streamed a celebrity filled video on YouTube where the headliners were announced one by one. Throughout the hour long broadcast, they encouraged a ton of engagement on Facebook, Twitter and Instagram with hashtags. This all-encompassing and innovative idea can be used for other brands – whether it's for a store opening or product launch.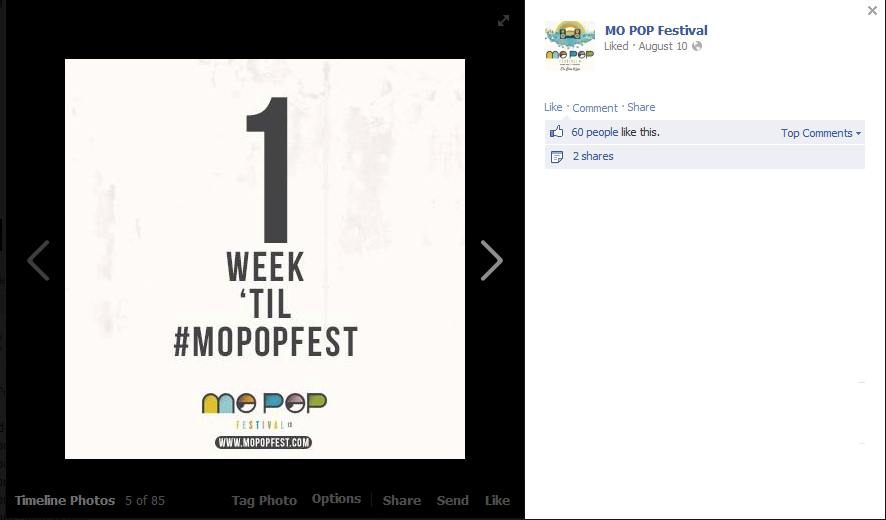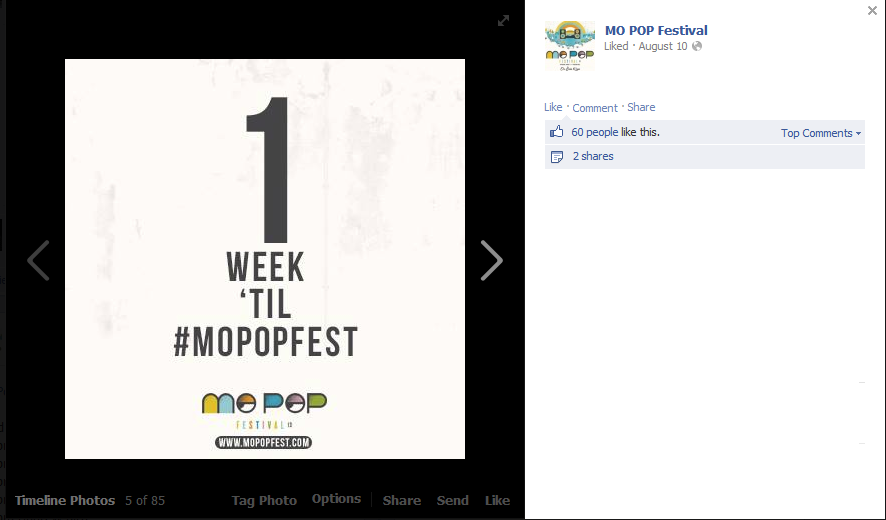 Do promotions. On top of everything else, these festival brands are utilizing social media to give away everything from tickets to t-shirts. They use status updates to encourage fans to like, share and comment in order to win. This builds awareness, increases fans on their pages and rewards those fans.
Have an after party. After each festival, the pages ask for feedback from festival goers. Bunbury Music Festival sends out a survey with a chance to win tickets next year attached. They also provide a forum for people to find lost items, respond to missed connections and share photos of the event on their Facebook page. This helps the event improve and continues building the community.
Be creative. As you can see from all the examples above, these brands are getting creative. They've got visual status updates, hashtags, live streamed videos and more. For example, Firefly Music Festival hid tickets in random states for fans to find and posted clues on Facebook. Maybe it's the fun nature of these events, but they're not afraid to try new things.
Social media has transformed the music festival industry – for the best. These brands are offering a rich experience that lasts for the whole year, every year.
Have you seen any other festivals or brands that are developing every facet of their social media for a well-connected experience?