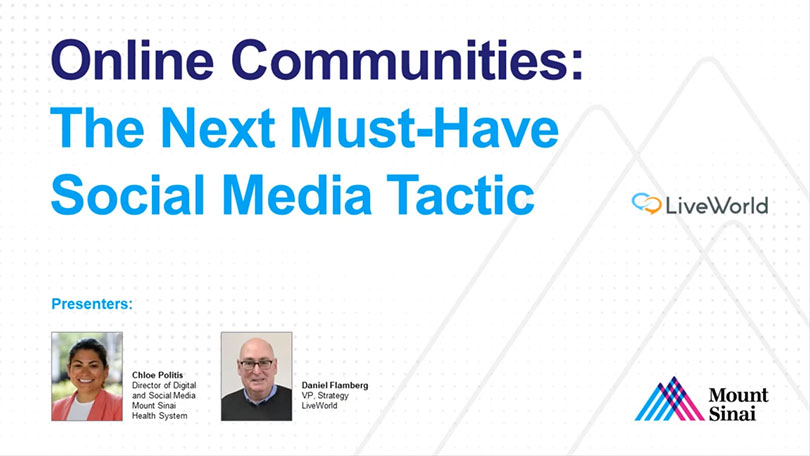 If you have an interest in implementing an online community, dementia caregiver care, and/or a spare 22 minutes, I highly recommend watching this exceptionally worthwhile SHSMD webinar, made available yesterday: Online Communities: The Next Must Have Social Media Tactic. And if you only have a few minutes, I hope this synopsis will be of benefit. While the webinar specifically delves into how to create a quality online community for dementia patient caregivers (a new zone for this veteran healthcare marketer), it provides a constructive foundation for expansion into any clinical area.
Chloe Politis, Director of Digital and Social Media, Mount Sinai Health System, explained how Mount Sinai created the online group as the solution to obstacles faced by the underserved dementia caregiver community. There is no standard of care and no cure for dementia. Peer-to peer misinformation, lack of a trusted authoritative source, and 11 million unpaid and burdened caregivers (often sandwich generation females) helping to care for the 13 million dementia patients in the US, fueled this initiative. Not to mention the Mount Sinai geriatrics team ranking as number one in the nation.
"We knew this entire program would live or die on the basis of the user experience, so we spent a huge amount of time thinking and strategizing about creating the appropriate, safe, protected user experience," shared Daniel Flambert, Strategy VP, LiveWorld. He reviewed five key User Experience steps employed:
Use the TFD Formula – In the UX world, that means Think, Feel and Do, which transpired as follows:

Think – This is an incredible, valuable resource.
Feel – Finally found my people. Now connected to people who are experiencing the same emotional and physical traumas and are sympathetic to my needs.
Do – Come to the community, share my information, react to what is going on and consume the research.
Follow the 1/9/90 KPI Formula – In the Online Community world, this means striving for the generally accepted engagement goals of 1% Active Audience, 9% Somewhat Responsive Audience and 90% Observer/Occasional Participant Audience.
Adopt a New York Attitude of "Becoming the Guy" – Ok, have to admit, I love this one. Relating to their NY audience who I learned has a "guy" for tech, fashion, etc., they decided they wanted to create the kind of relationship where Mount Sinai becomes "the guy" in the areas of caregiving, sympathy and true information. Talk about making an emotional connection!
Insert Expertise – A critical ingredient, this involves the injection of geriatrician and clinician guidance, accessibility, community interactivity, research sharing, care and Q&A availability to bolster the clinical offering.
Manage the Community Actively – Deployment of a community manager with authority to intervene, ask questions, add information, infographics, videos and robust content to provide a superior user experience.
Member recruitment involved organic and paid social media, enewsletters, internal communications and digital. Quantitative results have exceeded expectations with 1.3K members, 657 active participants and 927 shared posts.
Perhaps more importantly, qualitative results include validation of caregiver feelings and emotions as evidenced in this video, exchange of authentic peer information and truly helping people feel that they are not alone in their journey. And this, in turn, builds an emotional connection with Mount Sinai Health System as not just "becoming the guy," but treating the whole person for all medical care. Maybe it's the recent episodes of This is Us with family members struggling to help the ailing Rebecca, maybe it's memories of my dad's dementia in his declining years with Parkinson's, but I found this 22-minute webinar particularly relevant.
Looking for additional healthcare insight and trends? Explore our blog.