2016 was another very big year for the visual-based platform. The social network introduced several new ad tools, formats and even a new interface.
In case you missed it, we present Instagram's most snap-worthy moments of 2016:
A new year, a new user interface.

One of the most significant updates made to the platform this year was to the user interface. Instagram moved away from its navy blue and white theme and debuted a simpler new look in May. Without changing the navigation or function, the simple new white and grey design improves the appearance of photos and videos.

More than 500 million Instagrammers.
This year, the platform grew to more than 500 million users. Of which 300 million use the platform every single day.

More than 500k advertisers served.
Since launching their advertising platform to all businesses in 2015, Instagram now serves over 500,000 advertisers. Within six months, the number of advertisers on Instagram has doubled, including businesses from all around the world.

Account switching with ease.
Gone are the days of logging out of your personal account to log in to your business, brand or separate account. Users can now float between their multiple accounts with ease, making it easier for social managers to post branded content.

New business tool belt.
Three new tools are now available for your brand: Business profile, insights and promote.
Business profile is a free feature for accounts looking to be recognized as a business on Instagram.
Insights gives businesses information about what posts resonate better than others, who their audience is and their behavior.
Promote allows businesses the opportunity to turn a high-performing post into an ad, to better connect with more customers.
Video Carousel ads.
Remember those engaging carousel ads from 2015? This year, users are now able to add video to their ad units and can share up to five pieces of content. Which means more richer storytelling opportunities.

Vertical ad format.
Knowing that portrait oriented photos are a common format for users and businesses, Instagram decided to give advertisers more flexibility with their ads by allowing for vertical ad placement.

Introducing…Instagram Stories.

Last but certainly not least, the most recent feature to be added to the platform is Instagram Stories. Similar to Snapchat, users can post videos and pictures throughout the day that disappear within 24 hours. Users can add flare and excitement to stories with text and drawing tools. Just tap the user profile picture to see Stories.
But wait, there's more.
Just last month, Instagram revealed that very soon users will be able to shop right from their feeds. Brands will be able to tag the products in their images, allowing users to click through to retailers' websites for research and purchase. While this feature is in testing, users can expect to start seeing more and more of these capabilities.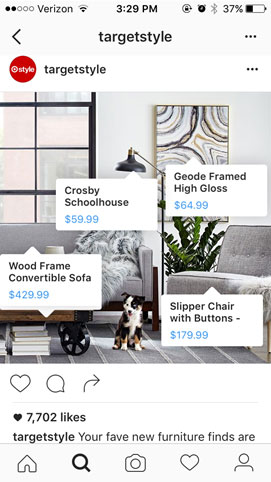 For more trends and insights, sign-up for our Brogan Weekly Recap. And you'll get what's new and next in the world of advertising.