When I say St. Jude's Children's Research Hospital, what do you think of?… Marlo Thomas, right? Or maybe Jennifer Aniston or Robin Williams if you're too young to appreciate founder, Danny Thomas. At any rate, you probably get a warm feeling, as they've done a great job of positioning this national pediatric research center and hospital via celebrity spokespeople paired with pediatric cancer patients. Nothing fancy, just consistent messaging that pulls at the heartstrings and delivers their undisputable leadership claim.
And always with a fundraising call to action. Because this is the critical marketing goal for St. Jude's as "85 cents of every dollar goes to research and treatment" and "no child is ever turned away". (You learn these impressive facts quickly if you look at any of their marketing communications.)
So what makes them an innovative healthcare marketing story? The way they've extended their brand and fundraising efforts into the social media world. With 425,000 fans, their Facebook page has customized tabs including my favorite, "Patient of the Month", with photo and short summary, linking back to the website for a more detailed profile of the child, including an endearing patient story video. Their incredibly active wall has branded posts from the hospital, including fundraising activities, donor appreciation messages, even some from Marlo herself. Many more posts come from the loyal St. Jude's patient family and fan base.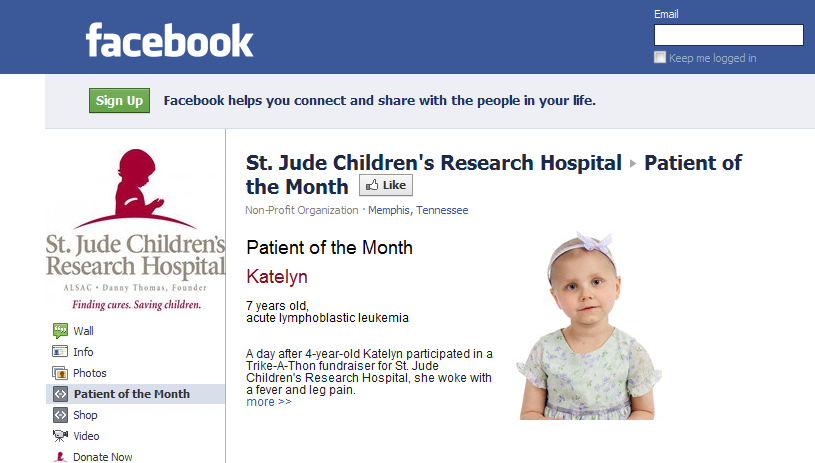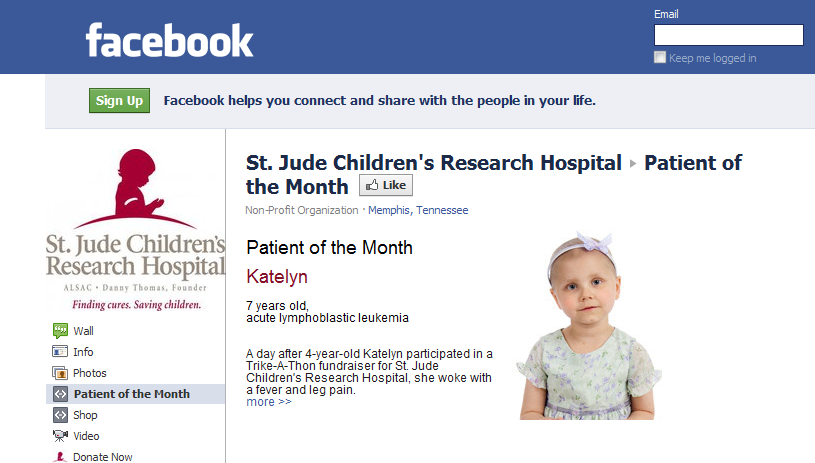 The YouTube page is nicely branded and chock-full of touching testimonials, both internally and externally produced. Their Twitter page is branded, and while they don't come close to leader Mayo Clinic's 190,000 followers, they do have 29,000. Again, the message is clear: donate to save children's lives. Opportunities to donate, such as the "Become a Partner in Hope" button, abound throughout all social and digital media. As do opportunities to share patient stories. Interactivity is further encouraged via text or email alerts about St. Jude's.
Social media is the perfect health care marketing avenue for an organization such as St. Jude's as moms, key social networkers, love to connect and share experiences, especially about their children. Kudos to St. Jude's for maximizing this medium to help us connect with and love them even more.
Share with us your favorite innovative healthcare marketing example.