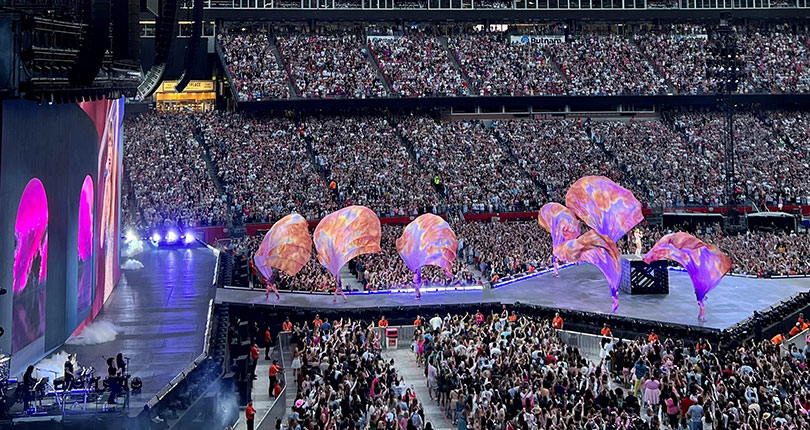 Taylor, Beyonce, Barbie, travel, wining, dining. Despite rising inflation and whispers of recession, spending took a turn for the fun in summer 2023. That is, consumers, especially female, prioritized once-in-a-lifetime events and entertainment fueled by fellow female icons.
As summer 2023 comes to a close, what were the results? Consumer spending led to record entertainment stats, economic booms and a true demonstration of the power of women's wallets. See how.
Let's talk Taylor and Beyonce.
The Eras and Renaissance World Tours kicked off simultaneously in 2023 and quickly became the hottest tickets in town. After Taylor's ticket sales crashed Ticketmaster, fans took more drastic measures and spending to secure their seats. According to a survey by QuestionPro, "The average concert goer spent about $720 more than their budget." That included tickets, outfits and costumes, concert merchandise, food and drink, travel, lodging and more. Despite these budget-breaking numbers, demand for attendance continues to rise. Fans are lining up to get tickets wherever they can as more dates are announced. Whether it means traveling to another state or across the Atlantic for a seat, they're in.
Similarly, Ticketmaster reported in February that demand for Beyonce's Renaissance World Tour was "800% higher than supply." Record demand for these iconic concerts has fans digging deeper into their wallets and prioritizing spending on experiences over saving in this season.
The collective effects of these ticket sales and their associated excitement are staggering. According to CNN Business, the Eras Tour could gross $2 billion during the first leg of the U.S. tour alone (with international and U.S. legs still to come), making it the highest-grossing tour of all time. Renaissance could reach a remarkable $2.4 billion in ticket sales.
With numbers this high, it's clear consumers are opening their wallets for fun this summer. It's boosted local travel and tourism, charities, and even enhanced Yelp reviews in tour destinations. QuestionPro President Dan Fleetwood shares, "If Taylor Swift were an economy, she'd be bigger than 50 countries; if she was a corporation, her Net Promoter Score would make her the fourth most admired brand, and her loyalty numbers mimic those of subjects to a royal crown." Talk about a Big Reputation.
Let's talk Barbie.
The Barbie/Oppenheimer dual release (more fondly known as Barbenheimer) was the tipping point that brought many fans back to the theaters post-pandemic. Barbie's release was one of the most anticipated in recent decades. The movie's reported $150 million marketing budget created mysterious buzz and nostalgic hype around the film. And it resulted in more record stats. According to numbers from Warner Bros. Discovery, the film earned $356.3 million for its opening debut, including international sales.
Even more incredible than consumers' return to the silver screen was what came along with it. Fans gathered groups of friends, made reservations and headed to the theaters, many for the first time in years. But they didn't go without looking the part first. Barbie pink seemed to take over the streets on opening weekend and has become a trending color for retailers. Local restaurants and businesses had fun getting in on the craze, with some restaurants even offering discounts to fans who came dressed to dine in the bright hue. The cultural phenomenon that is Barbie was another hallmark of the summer spending season.
Let's talk travel.
Through tightened purse strings, Americans prioritized travel throughout summer 2023. Ipsos projected the total spending on summer vacations among Americans to reach an all-time high of $214.1 billion in 2023, 10% higher than it was in 2022. Whether they were traveling to see an artist, see the world abroad, or opting for a trending microvacation, travel spending soared this year. It's another example of consumers exercising their budget for fun after a years-long pandemic.
Let's talk what's next.
In the wake of big summer budgets, what will consumers splurge or save on during the fall season? Even more, as brands and artists see the power of female spending in 2023, what will future strategies hold? "Anything is possible," shares Barbie, and we'll be excited to report it on the Brogan blog.