Like everyone else's kids, my twelve-year-old daughter is crazy about The Hunger Games. She devoured the book trilogy and she's been making plans for the big opening day for weeks.
I myself have been kind of indifferent to the Hunger craze. I was only grateful that there weren't any vampires involved. But then I spotted a Hunger Games promotion that made me a fan, too.
As the poster says, the world really will be watching when this much anticipated movie hits screens. So instead of just doing the usual glamorous premieres, magazine covers, and other ways to drum up ticket sales, the film is using its fame (and its theme) to do some good in the world. Through the Facebook page, people can make a donation for food distribution by the World Food Programme,internationally or WFP and Feeding America in this country.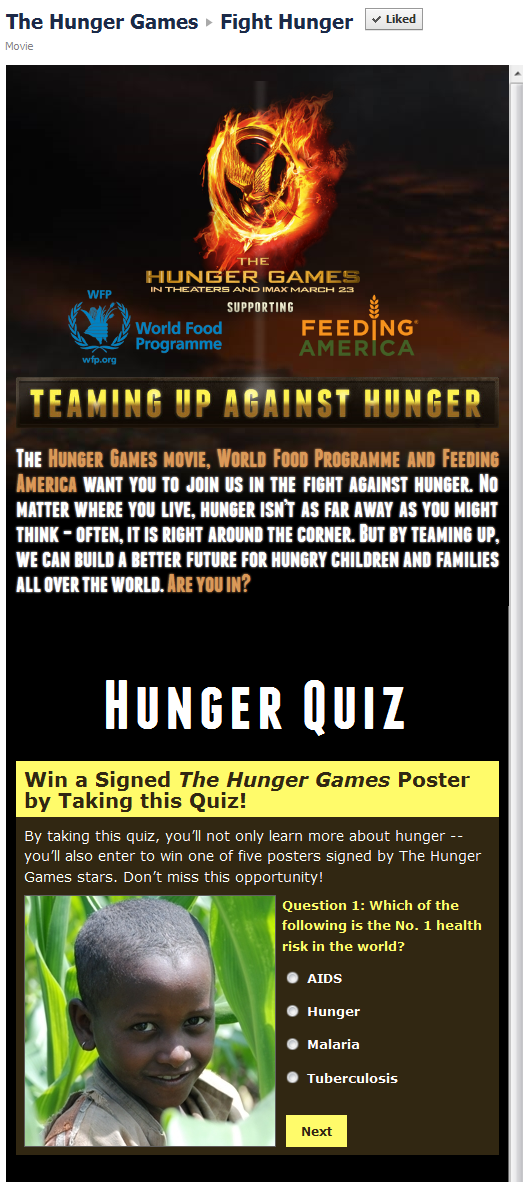 To further entice fans to learn more about the very solvable hunger problem, the site features a quiz that includes facts like:
"1 in 7, or close to one billion people, go to bed hungry every night."
"Hunger kills more people every year than AIDS, malaria, and tuberculosis combined."
"There is enough food today for everyone to have the nourishment needed for a healthy and productive life. The problem is access."
Finish the quiz—and learn an important thing or two—and you're entered to win a signed Hunger Games poster.
To me, this is cause marketing at its best. The film not only gets its publicity, it also harnesses all that fan love to do, good work. It's a win-win. And it's made me—a formerly indifferent Hunger Games bystander—volunteer to chaperone seven girls to the movie on Friday night.