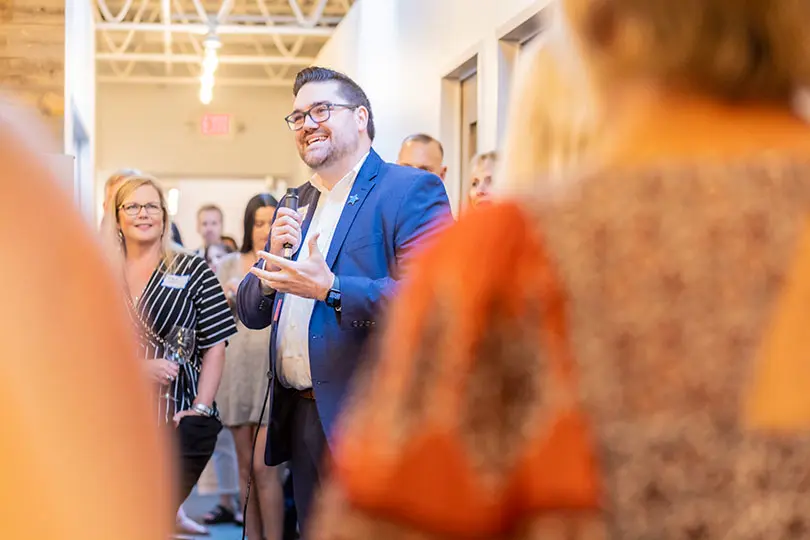 Thanks to the help of our clients, vendors, friends and family, our wish came true: Brogan & Partners raised over $23,000 for the Make-A-Wish Foundation's Michigan chapter at our annual wine-tasting event on July 12. Despite a summer storm that left our parking lot in puddles, more than 150 wine lovers showed up at our Ferndale office to sample a wide variety of delicious wines and bid on silent auction items. The wines were selected by former Brogan employee and former Miss Michigan Jaclyn Misch, who is now the owner of Tasting Grapes Wine Events. Wines were paired with a beautiful spread of hors d'oeuvres generously donated by personal chef and caterer Marci Shienbaum, owner of Marci's Kitchen.
Silent auction items included a wide assortment of tickets to Detroit Tigers games and local concerts, autographed sports memorabilia, large gift baskets, an iPad Pro, an array of spa and salon services, handmade pottery and more. While the auction may have been silent, the event was not—conversation and laughter flowed as freely as the rosé and cabernet.
One of the highlights of the evening was a brief but moving speech by Mike Hull, President and CEO of Make-A-Wish Michigan. He described the impact of the wishes granted to critically ill children, explaining how they gave them something positive and hopeful to focus on during a difficult time. His speech had us all in puddles, and it had nothing to do with the rain. Mike was introduced by Ellyn Davidson, Brogan CEO and Make-A-Wish board member.
It was a wonderful evening for an inspiring cause, and Brogan & Partners thanks everyone for their generous donations and hard work. We're looking forward to making even more wishes come true next year!