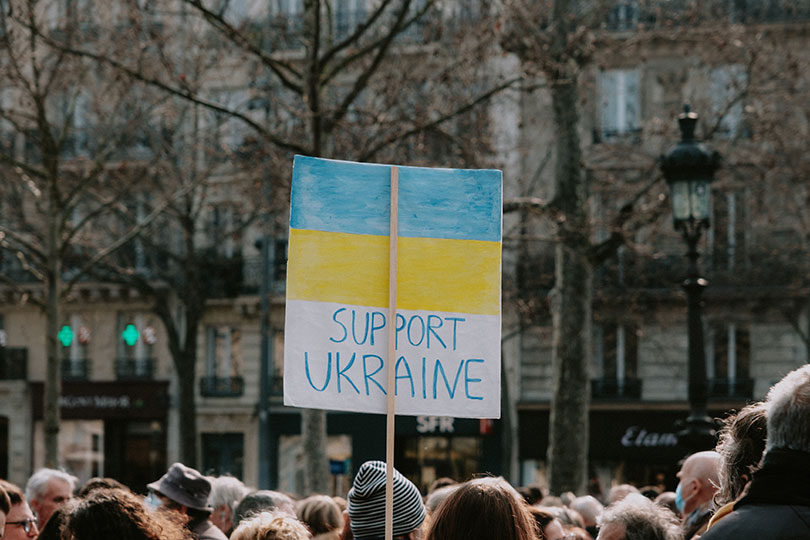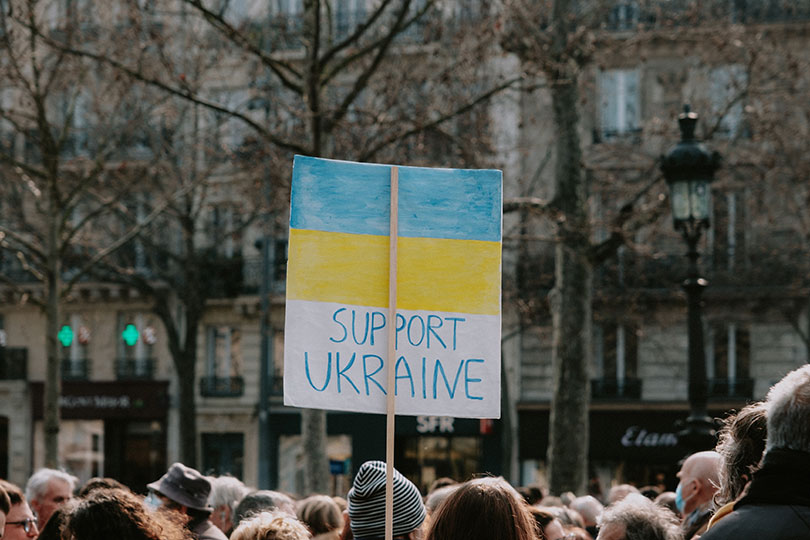 On February 24, Russian President Vladimir Putin launched an invasion into Ukraine – a country of about 40 million people. Since then, almost three million people have fled. However, experts in the European Union (EU) estimate more than seven million people may leave the country they call home.
Per the New York Times, pushback against this assault has played out prominently in the form of economic sanctions, company exits and widespread moral outrage. And as a result of my own personal outrage, I've been spending my nights "doomscrolling" (devoting an excessive amount of screen time to absorbing negative news) to learn more about what's happening in the world… and who's doing what about it.
With a special interest in brand responses, I came across the wise words of Marla Kaplowitz, the chief executive of 4A's (an advertising trade group), who said, "We see the industry trying to figure out what to do, because people feel a bit helpless, like putting out a statement just doesn't feel like enough right now." She went on to deliver the line that hit me hardest: "It's not enough to just say something, you actually have to do something."
With that, I wanted to explore how brands are handling what could very well be largest humanitarian crisis on the European continent in many, many years. Read on for more.
Taking a stand vs. standing on the sidelines
To gauge consumer sentiment about the Russian invasion of Ukraine, Forrester polled 809 adults across the U.S., Canada and the U.K. The results showed an overwhelming 79% said they think companies/brands should speak out against it, with 84% wanting businesses to pull their operations out of Russia immediately. Here's how it's being handled so far.
McDonald's leads the way, and we're lovin' it. On March 8, McDonald's announced they would temporarily close all 850 locations in Russia, citing that "our values mean we cannot ignore the needless human suffering unfolding in Ukraine." Despite the shutdown, however, McDonald's will continue to pay its 62,000 employees in Russia, as well as employees in Ukraine from the 100 temporarily closed stores there. They've also donated $5 million to their Employee Assistance Fund and sent a Ronald McDonald House Charities mobile care unit to the Polish-Ukrainian border – providing medical care and humanitarian aid for families and children. Another unit is on its way from Latvia. (These efforts are especially noteworthy, as roughly 9% of the company's annual revenues are derived from Russia and Ukraine.)
International energy giants power down. Shell announced they would permanently end all Russian operations – a move that could cost them up to $3 billion. And until they're able to find alternative supplies, they'll be donating any profits on Russian oil to a Ukraine aid fund. Similarly, ExxonMobil and BP will also be abandoning the Russian market, the latter of which stands to lose up to $25 billion due to their nearly 20% stake in a Russian state-controlled oil company. (Talk about a selfless decision.)
MANY major companies withdraw from Russia. Adobe. Amazon. American Airlines. American Express. Apple. ASOS. Aston Martin. AT&T. BMW. Boeing. Burberry. Burger King. Canada Goose. Chanel. Cisco. Coca-Cola. Comcast. Dell. Delta Air Lines. DHL. Discover. Estée Lauder. Expedia. FedEx. Ferrari. Ford. GE. GM. Harley-Davidson. H&M. Heineken. Hermès. Hilton. Honda. Honeywell. Hyatt. IKEA. Intel. IBM. JPMorgan. KFC. Lego. Levi Strauss. Little Caesars. Louis Vuitton. Marriot. Mars. Mastercard. Mercedes-Benz. Microsoft. Nestle. Netflix. Nike. Nintendo. Nissan. Nokia. Papa John's. Paramount. PayPal. PepsiCo. Pizza Hut. Prada. Puma. Reddit. Roku. Samsung. Sony. Starbucks. Suzuki. TikTok. Toyota. Uber. Under Armour. Unilever. United Airlines. UPS. Visa. Volkswagen. Volvo. Walt Disney. Warner Brothers. Western Union. All of the above (and more) have announced some sort of actions against Russia.
Airbnb goes the extra mile. The vacation rental company will offer free, short-term housing to up to 100,000 refugees who are fleeing Ukraine, funded by Airbnb, Inc., donors to the Airbnb.org Refugee Fund and the generosity of Airbnb hosts. Additionally, people across the world are booking stays in Ukraine with no intention of actually traveling to the warzone – intending only to get money into the country (i.e. paying Ukrainian hosts directly).
Social sites suspend advertising. Facebook is blocking Russian state media from running ads and monetizing on their platforms, while Google, Twitter and Snapchat are temporarily pausing all ads in Ukraine and Russia. (For Google, this includes search, YouTube and display marketing.) These actions aim to stop the spread of misinformation and ensure critical public safety content is elevated and ads don't detract from it.
Uniqlo course corrects. Initially, the apparel chain kept its 50 Russian stores open – calling clothes a "necessity of life." However, the company now says they've decided to temporarily pause all operations, make a $10 million donation and encourage their employees in Europe to help deliver clothing to those fleeing from Ukraine.
As always, every company must do what's right for them, based on their corporate values. And when intersecting with social issues, it's increasingly important to prioritize thinking over speaking. Immediately after the invasion, for example, some bartenders started dumping Stoli vodka down the drain in a supposed move of solidarity with Ukraine. The problem? The spirit – though its full name is Stolichnaya – has been made in Latvia for decades. Not Russia. Oops.
Wondering how you, as an individual, can take a stand? Our own director of web experience has partnered with a local business that's sending essential supplies to Ukraine, and supporting the drive is easy. Just visit the Amazon list they've put together. (Note: If you choose to order something, please select "Petite Cabane" – the European-style children's boutique in Birmingham, Mich. – as the shipping address.