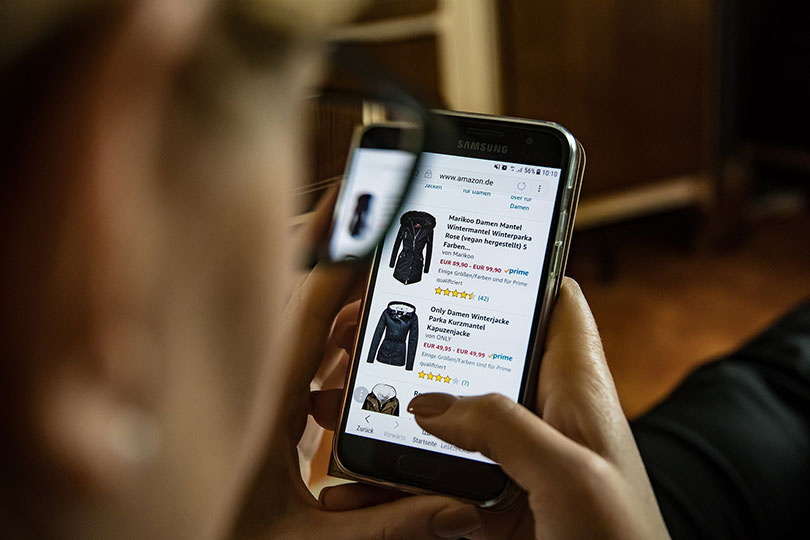 I'm wearing a scarlet sweater today. It's the one I bought when I'd had one too many glasses of cabernet to care much about a budget. Ultimately, it was a good call—on sale, good fit, timeless. I wish I could say the same for the three pairs of jeggings and hombre sweater that I also bought when my guard was otherwise compromised.
I wasn't actually shopping when the incident occurred. In other words, I didn't tipsy shop intentionally. I was binge watching a drama when the clothing found me. True, I had flirted with the sweater once or twice before, even checked on the size and perused a couple reviews. But it hadn't made it to my cart. I'd forgotten all about it; but it didn't forget about me.
The retargeted digital unit found me at just the right time. (On an overstuffed chair, wrapped in a fleece blanket, wallet nearby, comfortably buzzed.) For months, I thought I was alone in my shame until I discovered that drunk online shopping is a thing.
A third of Americans admit to having shopped while under the influence, according to the Finder.com survey. The average spend is $206, just a little south of my spree. Millennials and Xers are the biggest offenders, 39 percent and 36 percent respectively, with Boomers representing 18 percent of sip and click shoppers.
It's a potent cocktail—with equal parts convenience and abandon. Online merchants are more than happy to oblige. Business booms Fridays after 2 a.m. at fashion commerce sites like Lyst and Racked, with sales increasing as much as 48 percent.
Brick and mortar stores want in on the action, serving alcohol in hopes of luring more customers' offline and into their shops.
Whole Foods has been pouring craft beer and wine at select stores since 2010. "People like to get a glass of beer and make their shopping experience a little more relaxed," said Mary Ann Nisley, the store marketer of a Whole Foods in Ann Arbor when the store began serving alcohol in 2014.
Target sidled up to the bar, albeit briefly, when a Starbucks roommate at its Streeterville, Ill., location sold beer and wine as part of its short-lived "Evenings" program. The anticipation started building as soon as Target applied for a liquor license. "Target wants to make you a cocktail while you shop," reported delish.com. "A Chicago Target store could serve liquor when it opens in October," teased USA Today.
Retailers say they're not plying on alcohol to prey on consumers; that it has nothing to do with lowering inhibitions to boost sales. They're just trying to keep things interesting for consumers, and to stand out in a competitive market. "We want our customers to enjoy their shopping experience," Nisley told mlive.com.
Stay on top of the latest marketing trends. Sign up for Brogan Weekly Recap.