After attending SXSW, one of the best sessions was Dear Google and Bing: Help me rank better! It was practical and gave me tangible items I could take back to my company and to all of you.
The session included Danny Sullivan, Duane Forrester and Matt Cutts. Danny is the Editor in Chief of Search Engine Land, and Duane and Matt joined us from Bing and Google and helped clarify some questions that were basic, but valuable:
First question asked by the audience was, what are those links that appear under websites?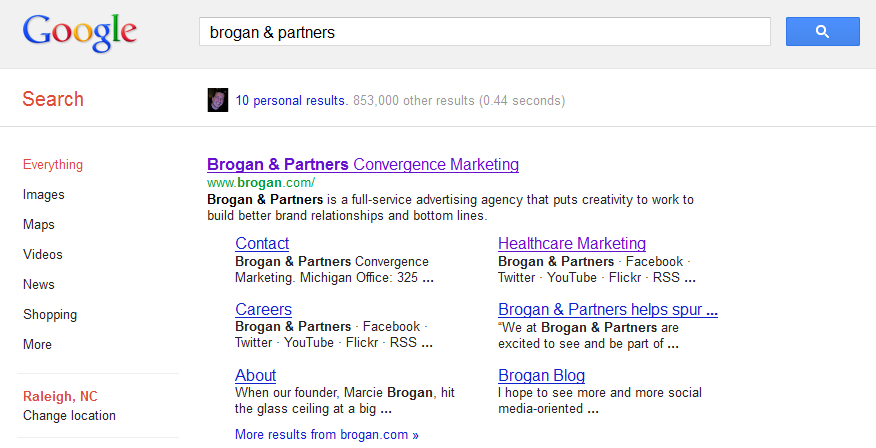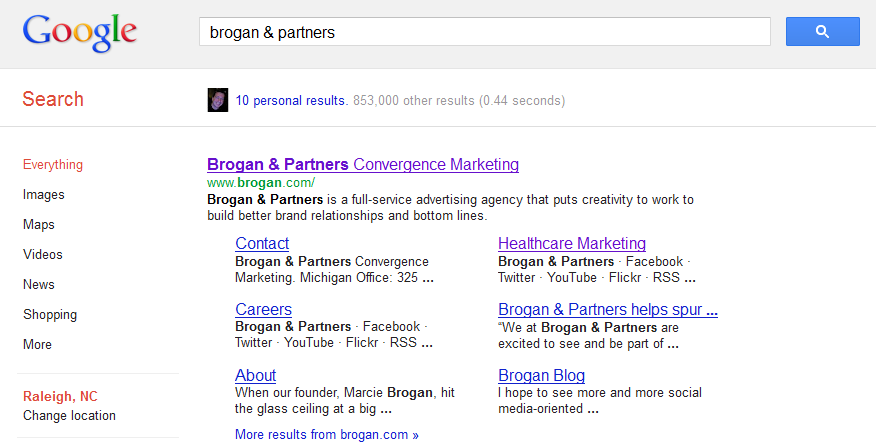 Google and Bing call them slightly different things (site links vs deep links), but they are determined by the trust of the pages. They are the most relevant pages in a website. For Brogan & Partners, Google decided that Contact, Careers, About, Healthcare Marketing, Brogan & Partners Business Reboot page, and the Brogan Blog were the most relevant for a user searching for our site. And even better news, you can edit and remove these deep links for Google at Google.com/webmaster. However, you cannot add any deep links. That is for Google and Bing's algotheriums to determine.
Next question was about high bounce rates and if they matter.
Scary thing about the search engines, is they measure every move you make, but they claim to do it for the greater good and understanding how us, humans, search. They do measure when a user goes to a site, then right back to the search engine. That means that user was unhappy with their information. Duane at Bing did note that it is not always a consumer being unhappy, but rather they received the information quickly, so it is not a bad thing, but something the search engines take into consideration. So make sure to monitor your bounce rate and let it be one of many things to evaluate.
Another key note that Google and Bing both pointed out, was make sure to engage socially. If a topic is going around the social networks, it is a signal to Google and Bing that that information is relevant and will rank higher. And we all know that YouTube videos are the first result in many seaches (Hint: Google owns YouTube).
More Advice:
SEO points to relevancy. If a user lands on the site, are they happy? Or are they annoyed? Google and Bing want the user to always be happy, so create compelling content and get into a niche market. Work to become the voice in your area with compelling content so users will be happy when they land on your site. And try to rank high for less competive search terms.
Google and Bing want your results to be personal. Google has come under fire for their new privacy settings, but it is an attempt to have a very personal search relationship. Google and Bing remember what you have searched for in the past, and try to connect your current searches with your past searches. They have been doing this for a long time, but they also try and bring back geotargeted results. So when I search 'restaurants for lunch', Google brings up restaurants in Raleigh for me.
Last question they had time for was how to fix broken links. They unanimously answered '301 re-direct is the best way'. So make sure to push that with your IT team.
Matt, Duane and Danny were great and really did a fantastic job of explaining some of the nauances about SEO to the lay marketer.