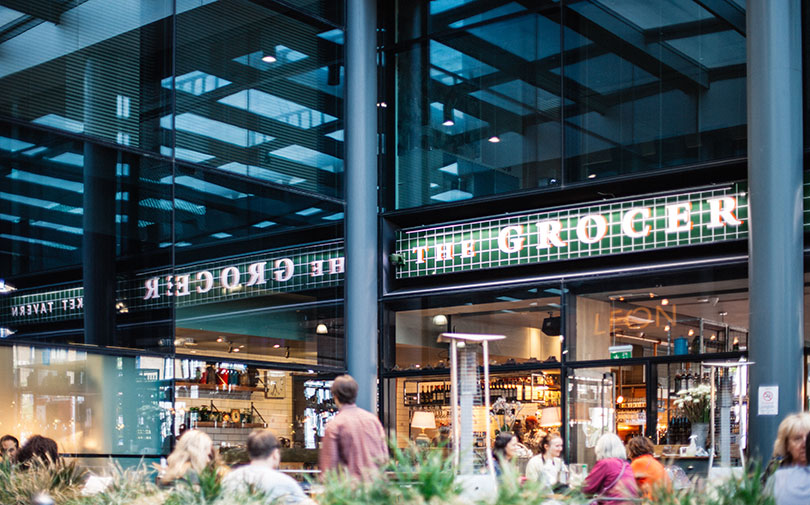 Some brands struggle to find purpose on social media. For lack of relatable brand content, they resort to posting random memes, celebrating obscure holidays and sharing inspirational quotes. It can be painful to watch.
They must envy grocers. Most community managers would gladly surrender five years of brand content for the content potential on just one shelf of the cereal aisle. "What's in your bowl?" "Bran. It's not just for breakfast." "Are you more Captain Crunch or Tony the Tiger?"
More than content, grocers have the benefit of a highly motivated audience. Consumers don't have to be baited into liking grocer pages. They naturally seek them out, according to an FMI study.
About half (53 percent) of all shoppers—especially younger Millennials—connect with food retailers through social media. Seventy-three percent of Millennials (age 18-27 in 2017) and 59 percent of Gen Xers (age 38-51 in 2017) are influenced by social media.
Not just any social media. Facebook is the preferred channel for grocery shoppers of all generations. Millennials use it most, followed by Gen Xers, Boomers and Matures. They use social to scout sales and promotions (73 percent) and new products (72 percent), and to find recipes (59 percent). This according to a separate study by UPS called Pulse of the Online Shopper.
What are grocers doing with all that potential? Not nearly enough, per yet another study by Retail Feedback Group (RFG).
RFG found that while most (87 percent) supermarket shoppers follow one or more social media channels, just 25 percent have friended or connected to their primary grocery store. This is most likely because grocers are not claiming their Pages or spending scant resources to manage them.
Enough already.
Attention Grocers: Your consumers want to be (Facebook) friends
It's time to get serious about social media, else customers may fall in "like" with a competitor. Data suggest Facebook is the most popular platform for grocery shopping, so start there. If you've already claimed your business page and just need a little inspiration, skip to number 2 below. If this is all still very new to you, begin at the top.
Claim your page. Facebook created a step-by-step tutorial for just this occasion. You'll need a profile picture, which will serve as the main icon of your page. The icon is square. Obvious choices are brand logo or store name. You'll also want to have a cover photo handy. This is the dominant image that stretches across the top of your Facebook page. The official dimensions are 851×315 pixels. This is prime real estate and should be reserved for marketing campaigns and longer-term promotions.

Evaluate your resources. Identify a champion who will be responsible for managing the page. It will be their job to regularly update and post to the page and follow user activity. This position is known as the community manager. Identify a backup community manager in the event of illness, vacation or job change. The community manager will likely come from your marketing team as social media is part of the marketing function.

Follow the competition. Peruse a few months or more of the competition's Facebook feed. Look for posts that generate significant engagement, as well as campaign themes and regular promotions.

Develop a plan. Facebook business pages come with lots of features–analytics, reporting, security and access, and more. Take the time to understand how to manage the platform and how you'll measure success before diving into content. Pay close attention to analytics, reporting and access. Once you understand the tools, create a plan that includes cadence (how often you'll post weekly), communication (your ideal response time), and monitoring (how you'll keep abreast of activity and respond to both positive and negative comments).

Create a content calendar. Everything on Facebook is content—copy, images, video. It's all considered content. This is what your consumers are craving. Start with a quarter, just three months of content. Original content is ideal because it will be most relevant to your followers. But it's okay to share complementary content once or twice a week from brands that you carry. Your content calendar should support your marketing strategy. Think in terms of sales goals and traffic.

Promote your page. Boosting posts can be an effective and inexpensive way to advertise outside of your fan base. This video explains how to boost a post in under two minutes.
For more on content development check out "Content marketing: 4 rules to follow."