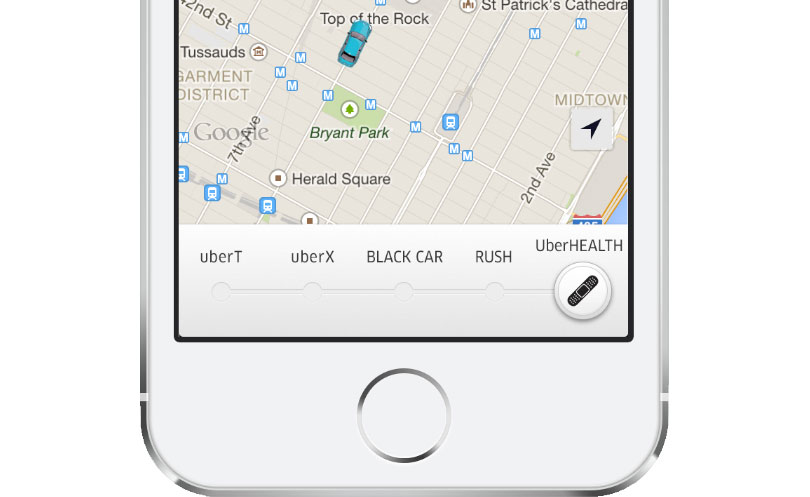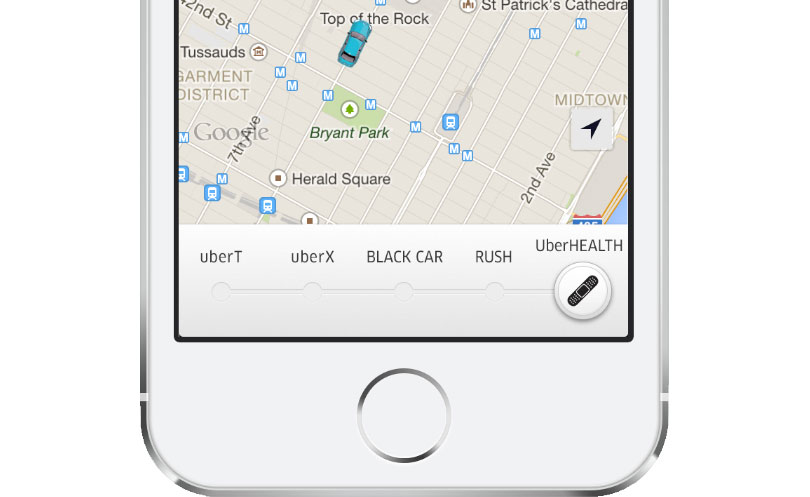 UberX. UberXL. BLACK. SUV. UberHEALTH?
Yes, you read that correctly. UberHEALTH.
On October 25, the ride-sharing enterprise advertised their new promotional effort, #UberForHealth.
When users in participating cities opened the app between 11am and 3pm, Uber's temporary "HEALTH" option could be selected in attempt to stay well this season. The campaign was designed to deliver flu care packages and flu shots for up to five individuals from a registered nurse through Passport Health, for free. No tricks, no gimmicks, just the tap of a button.
If you are a firm believer in the expression "good things come in threes" this marketing tactic probably appeals to you– free Uber, free care package, and last but certainly not least, free flu shots.
Although the shot is optional, Uber hopes their promotion will encourage users to take control of their health, along with keeping the health of others in mind. As reported by Uber, each year the flu affects 20 percent of the population and receiving the flu shot reduces the risk of passing your germs by 50-60 percent. Uber's overall goal may be to spread buzz from person to person about the convenient transportation business, but UberHEALTH aspires to do the opposite for viruses and prevent illnesses from circulating.
How this helps Uber.
2016 is not Uber's first rodeo testing out UberHEALTH. However, unlike last year, everything is free – and to be quite frank, everyone loves free. Uber's pilot campaign presents users and non-users an incentive to try Uber for reasons other than convenient traveling.
Even though Uber is merely getting their feet wet in the healthcare pool, we can't help but wonder what is next? Will they tap into unlimited delivery services? Take over the world? (okay maybe not that far, but you get the idea).
Whatever the next big thing may be, the innovative campaign supports the multibillion dollar company in breaking out of the traditional "Uber box" and encourages more brainstorming on how Uber could ultimately be used. More uses = More business.
How this helps the healthcare industry.
It's no secret hospitals are on top of the latest technology in their facilities, but campaigns like UberHealth force innovation outside the hospital walls as well.
Although it may not be ideal to bring the nurse to the patient in every situation, hospitals are taking the idea of convenience integration and running with it. MedStar Health can be seen as a prime example when their partnership with Uber was announced in January 2016 in hopes of helping patients with transportation to and from appointments. According to research provided by BMC Health Services Research, with every patient that does not show up to an appointment, a health organization loses money.
Keeping that in mind, incorporating concepts like transportation services is not only beneficial to the patient, it is also one small step towards the future for healthcare industries.
How this helps you.
Now more than ever, the hours in the day seem to be disappearing and to-do lists are growing. Busy mom, hard-working Millennial, stay-at-home parent, regardless of who you are, everyone strives to master the art of fitting it all in. This year, Uber helped individuals scratch the flu shot off those long lists.
The ride hauling company has been mainly used for getting from point A to point B, but did you ever think to use Uber to receive your seasonal flu shot? Chances are, probably not. For current Uber users and non-users alike, no matter the success of UberHealth, this may possibly encourage you to find new ways to utilize the service for your benefit, even when you never thought you could.
According to DMR research, more than eight million people are consistent Uber users and two billion rides and counting have been taken. With figures like that, it is no wonder why Uber is constantly trying to find new ways to help customers get "more for their ride." Uber Eats, Uber's Vote campaign, and Dogs of Uber are models for how Uber is expanding for their own business, but more importantly, for you.
UberHEALTH + Healthcare + You.
Although information has not been released on how successful the pilot campaign has been this year, one thing appears to be evident; innovation is surely in the air – and it appears to be beneficial to all.
Don't fret – if you missed the chance to try UberHEALTH, there is always next year to give them a "shot" (and they'll be sure to give you one too!).
For more on healthcare marketing trends, sign up for our monthly edition of the Brogan Healthcare Checkup.