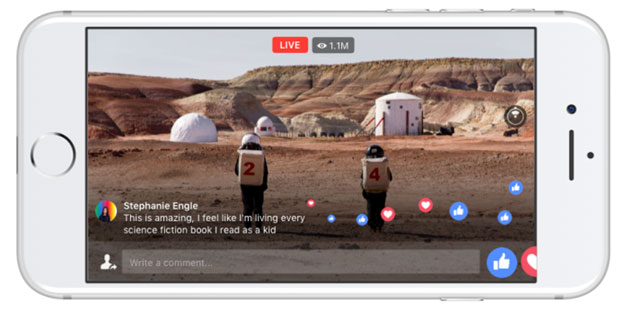 360 video is nothing new to the social world, but 360 video in real time is new to the world of Facebook.
Launched late 2016, Facebook rolled out the new feature with National Geographic streaming live from Utah at the Mars Desert Research Station. The video captured a group of scientists at the habitat simulator, taking followers behind the scenes to the pods where the researchers had been living for 80 days. The scientists also hosted a live Q&A.
The gist? Facebook 360 lets you watch in real time, while having the opportunity to change the angle of your view point and scroll around to enjoy more content than ever before. 360 video and one angle video can be quite like the relation between a globe and a map. A globe illustrates the world in its full spherical glory, while a map can capture a specific angle.
Which brings us back to social media. Facebook 360 Live aims to give marketers more options on how to best present their brand and activate an experience. Here are some ways marketers have already used 360 video:
Advertising Product: Faraday Friday FFZERO1.
Tesla's rival, Faraday Friday, launched their electric car earlier last year. Also using video's newest technology to give users a 360 experience of what driving behind the wheel might actually feel like – or pretty close to it. If they didn't know about the FFZER01 before, they certainly do now.
Enhancing the brand: Jack Daniels' 360 Distillery Experience.
Jack Daniels takes their followers for a 360 spin around the Jack Daniel Distillery so everyone can get a feel for the craftsmanship behind one of America's oldest whiskey distilleries. The 360 view makes audiences feel like they are almost there themselves, connecting with more than just the products Jack Daniels sells.
Sharing destinations: Rockefeller Center.
During the most wonderful time of the year, this video showcases the Rockefeller Center skating rink. Although this video is not the most extravagant of the 360 videos that will be done, the simplicity allows viewers to capture true emotion – something that may have been difficult to do through one simple angle.
Facebook 360 might not be life changing for everyday Facebook users, but for content marketers it can make all the difference. Using this platform not only allows for a better view of content, but transports followers into content right from their fingertips.
With the feature being new and upcoming it is hard to tell how 360 live video will mainly be used while people are still experimenting. However, whichever way it is used, we have a feeling content creators are going to love telling stories from new angles (and taking you along for the ride!).
To stay up to date with all of the social media changes, all year long, subscribe to our Brogan Weekly Recap.