Do the ads that play on Pandora while you listen to your favorite playlist pertain to products or brands you are likely to purchase? As advertisers, it's our job to make sure our client's ads are being served to the right people. Pandora is making this easier, as they just announced their integration with STRATA, Mediabank and Mediaocean, the advertising industry's most popular media buying platforms. This means that radio buyers will be able to compare Pandora's audience data side-by-side with broadcast radio stations across the country and make more informed decisions about their media mix.
Thanks to Pandora, advertisers will now have a more complete representation of the radio industry that includes both broadcast and internet radio. Because of Pandora's information gathering upon free registration (birth date, gender, zip code and music), advertisers can target who they want (whatever demo) and where they want (US, region, state, DMA, County, etc.).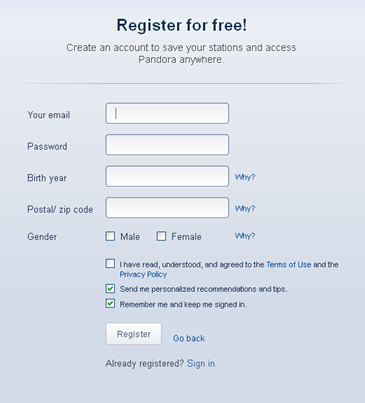 Being able to reach a specific target is important, but we love when media platforms take it a step further. Pandora is the perfect tool for marketing to women because it allows users to create their own listening experience which establishes a positive and more personal relationship. Listeners are more likely to feel Pandora is innovative, provides a great experience, and even contributes to the happiness of their day-to-day lives. This translates to better ad receptivity with engaged listeners tuning in to the ads and feeling positively towards the brands. According to a study done by Added Value Research, 77% of Pandora users said that listening to Pandora always put them in a better mood. 67% said that Pandora has a positive impact on their day-to-day life.

Although there is and will always be a place for advertising on AM/FM radio, there is a strong opportunity to connect with highly engaged consumers in the Pandora environment. According to Nielsen @Plan, females 25-54 who listen to Pandora are 41% more likely to have shopped online for health insurance in the last 30 days than the general online 18+ population. Females 25-54 who listen to Pandora are also 36% more likely to be the primary grocery decision maker in the home. The Pandora space is filled with listening ears with buying power. So next time you are listening to your favorite play list, pay attention to the ads that are being served your way. Chances are, the products and brands that pop up on your screen are tailored just for you.
Have you ever purchased a product or brand after being emotionally engaged to it via Pandora?
Download our free whitepaper: How women buy, and what it means for your marketing.