When coffee farmers in Ethiopia were being taken advantage of, Oxfam America launched a marketing campaign to fight for the farmer's rights. And they chose to do so with an interesting social media platform – Flickr, an online photo sharing community.
Ethiopian coffee farmers weren't receiving their fair share of profit and lacked the authority to protect the brands of their most popular coffee commodities – Harar, Sidamo, and Yirgacheffe. The country wanted trademark for their crops, which would grant them the right to negotiate price, earn a larger share of the value, and protect their brands.
Oxfam started a photo petition to support the farmers. The petition pressured coffee industry leaders, specifically Starbucks, to sign an agreement that would grant Ethiopia ownership over its coffee. Using a Flickr stream, student groups, organizations, and Ethiopian community members joined together to give voice to Ethiopia by uploading pictures of themselves holding up signs that state "I support Ethiopian coffee farmers."
More than 500 photos were uploaded onto the account, which brought global attention to the issue. The photos personalized the campaign by displaying the faces of petitioners. Starbucks responded to the pressure and attention and signed an agreement to give Ethiopian farmers a fair share of the coffee profits. The campaign was a success and received more than 96,000 supporters around world. But what was most successful about this social media campaign was how Flickr allowed supporters to feel like they had a big part in making change happen.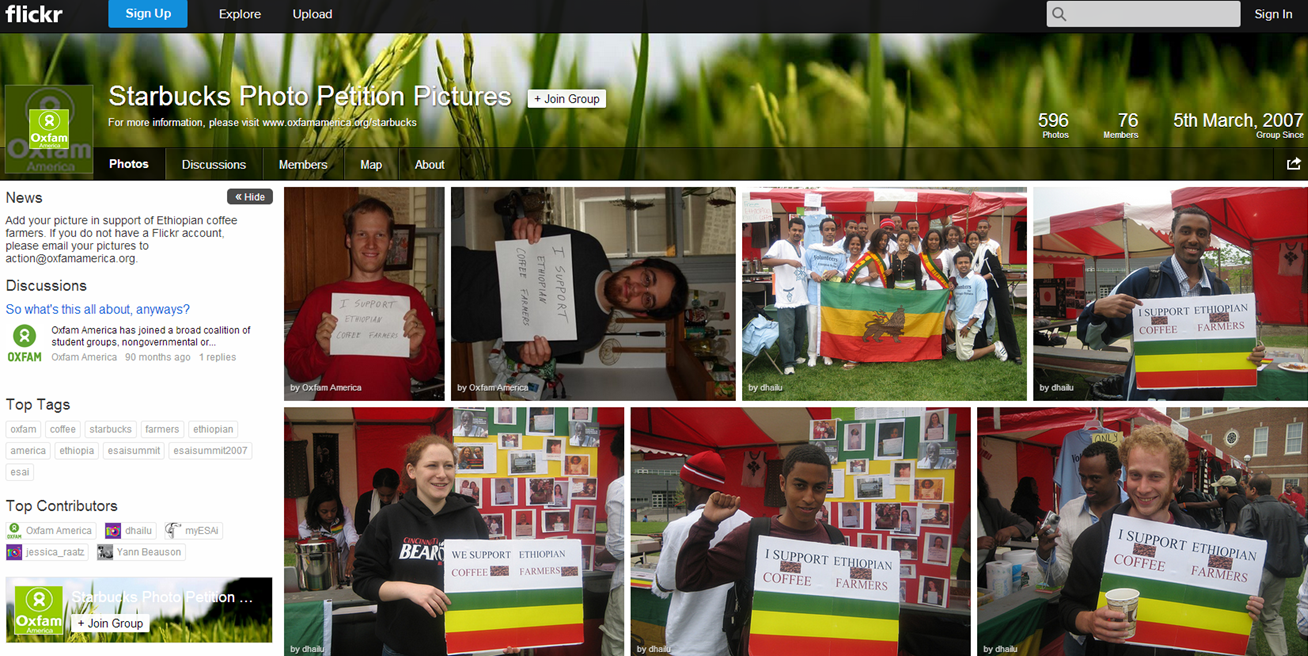 Do you know of any marketing campaigns that have used Flickr?
To see more nonprofits making a difference, check out the rest of my series, 10 Nonprofit Marketing Campaigns That Effectively Use Social Media.