Coffee run? Wedding this weekend? Biking? Rest assured there is an emoji or visual way you can express these things. This act of sharing imagery is a form of digital communication or digital "body language."
There are many ways to express yourself with visuals. Start with these:
1. Emoji – Emojis are one of the most popular forms of visual communication. In a recent study, it was found that nine in 10 U.S. Internet users use emojis. Nearly 70 percent of respondents said that emojis make it easier to more accurately express what they are thinking. Emojis were also found to help create more personal connections, and facilitate communication overall. How are emojis being used? Consumers use emojis in a variety of ways. Mostly, an emoji is sent to describe a reaction to something. Emojis can also be used in narratives or to give a contextual clue.
2. Emoticon – According to Swyft Media, six billion emoticons or stickers are sent every day. Emoticons can be as simple as the smile :), the frown :(, or more complex and can express all sorts of emotions and phrases.
3. Meme – A meme is an image or video that may or may not contain a phrase. Memes typically carry some sort of meaning that references popular culture and emotions.
4. Video – Sometimes we can't resist sharing a video of a laughing baby or of the new trick our dog learned.
5. GIF – This form of visual communication was made popular by the social site Tumblr. Similar to a meme, a GIF incorporates an image or video element and usually is used for a light-hearted effect.
6. Photo – At one point or another we have taken and sent photos. Whether it was a screenshot, selfie or photo from last night's shindig, consumers send or post pictures to express themselves.
7. Cinemagraph – This type of visual is most commonly used by brands or businesses. A cinemagraph uses a mix of still images with moving video. Brands like Netflix, Dunkin Donuts and Oreo have used this type of visual to express their brand.
Just how often are these visuals used? CEB Iconoculture recently conducted a study that asked users to identify how regularly they use shareable imagery.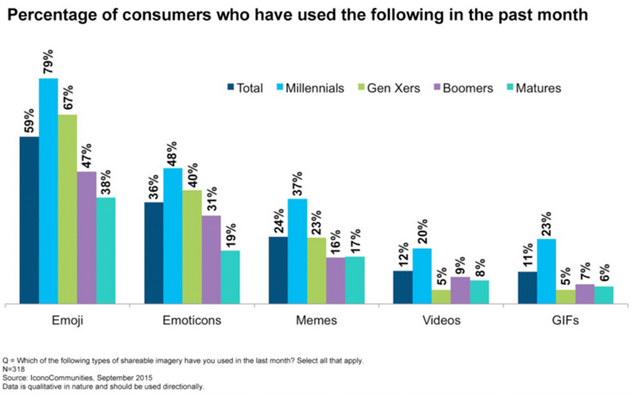 What visual topped the list? Emojis.
Although younger generations tend to use all types regularly, emojis were the most popular across all generations.
Next up, we're looking at brands and how they are communicating in visuals (specifically emojis).