In the late 1980s, the "Joe Camel" controversy made it all too clear that the tobacco industry was targeting kids as their future customers. Ads for Camel cigarettes featured a hip cartoon camel, puffing away, often captioned with the line, "Smooth Character." The Michigan Department of Community Health asked Brogan to create anti-smoking advertising targeted to kids that would fight the "smoking is cool" message the tobacco companies were sending.
Research showed us that kids and teens were not concerned with their future health (or lack of it); just as Joe Camel knew, kids wanted to fit in, look good, and get dates. So our campaign focused on consequences more dire to kids than cancer–bad breath and social ostracism. A TV spot gave them the bad news: no matter how much you primp, you can't get rid of smokers' breath.
A companion poster drove the message home. And another poster featuring a giant pair of lips, brimming with cigarette butts, posed the question: How about a big kiss?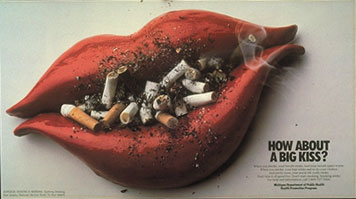 Yuck. That was the reaction from kids statewide. Which was just what we were hoping for.
What was your favorite anti-smoking ad? Did an ad ever influence you to kick the habit?
To see the rest of the 30 Best of Brogan, visit our original post in this series: Celebrating 30 years of creative advertising.