While driving to my daughter's martial arts class this w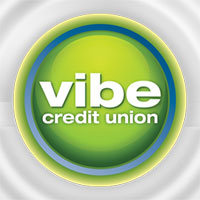 eek, a bold, new sign on an old downtown fixture caught my attention: Vibe Credit Union.
The credit union formerly known as Telcom has joined the ranks of the newly rebranded. Like the hundreds of credit unions that preceded Vibe, the credit union shed its namesake for the sake of growth.
Telcom Credit Union dates back to 1936 when it was formed by a group of employees at Michigan Bell Telephone Company in Detroit. At the time, membership was restricted to employees and their families. Today, Vibe Credit Union is open to virtually anyone, thanks to a clever cause marketing relationship with the Salvation Army.
Still, "Telcom" doesn't exactly translate as "welcome all" in consumer speak. And in a market where consumers are already tripped up over the word "union," credit unions must take great pains to clear all potential barriers to entry. It's the same reason T&C Federal Credit Union opted for Genisys, Communications Family assumed Wildfire, Royal Oakland is Our Credit Union, EECU became Michigan Community Credit Union, Metro changed to Extra…
Changing markets and repositioning alone build a credible argument for rebranding. The challenge is to craft a new moniker that fits the bill—ideally a name that maximizes existing brand equity, is progressive, and hasn't already been claimed (i.e. anything with "Trust," "Financial," "Lakes," "Michigan," "Lake Michigan," etc.)
Vibe has covered all three bases, according to the FAQ page on its website. The new name pays homage to its roots, while embracing an increasingly technology-based personal banking environment and altogether different generation of customers. And it's the first credit union to become Vibe Anything, or Anything Vibe.
The most difficult work is now underway, integrating the credit union's key attributes to create a brand proposition that resonates with new consumers without alienating its current, loyal base. Is the new brand too irreverent? Too nontraditional? Too disco? Will consumers catch the Vibe or tune it out?