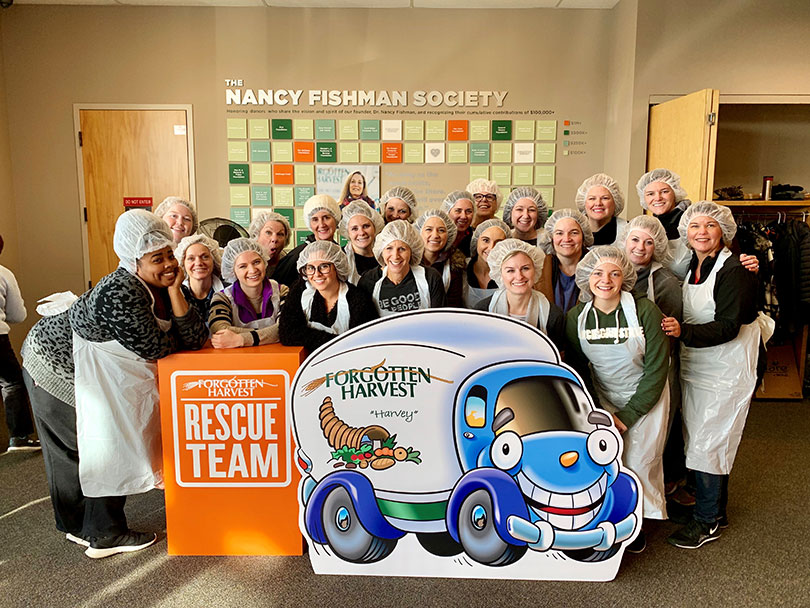 Brogan & Partners is committed to giving back. And 2018 was no exception. At the beginning of the year, we set a goal to donate 5% of our agency income back to the community through pro bono, volunteer work, board commitments and contributions.
Not only did we exceed that goal, but we also hit a new milestone with our volunteer time:
Throughout the year, 100% of Brogan & Partners employees participated in one or more volunteer opportunities.
Our team packaged food, wrapped gifts, worked with animals, children, older adults, the less fortunate. And together, they made an immeasurable impact in the community.
Here are our stories.
Angel Tree Ministry
Kim Luebke, Katie Rehrauer, Laurie Hix, Lauren Zuzelski and Carly Schiff spent their volunteer day with Angel Tree Ministry this December. Angel Tree works with church and community organizations to secure gift donations for children with parents in prison. The team wrapped, sorted, organized and bagged gifts for families, including "Angel" children and their siblings. Throughout the day, they prepared hundreds of bags for Angel Tree to deliver to participating families.
Big Family of Michigan
In December, Big Family of Michigan makes it their mission to distribute gifts to children in foster care. Kaitlynn Crane and Celeste Cantu visited the warehouse and helped "shop" for each child based on a wish list. They then spent the day wrapping over 50 presents for foster children.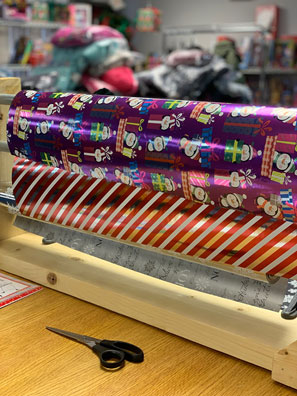 Enough SAID
Throughout the year, our team supports Enough SAID, an organization in Detroit that raises money to test rape kits, investigate sexual assault crimes and make our streets safer.
FORCE – Facing Our Risk of Cancer Empowered
Tamra Marinello attended the 12th Annual FORCE Conference in San Diego from October 19-20. She is an outreach coordinator for southeast Detroit and attended volunteer sessions at the conference to improve FORCE's outreach support sessions held every other month.
Forgotten Harvest Warehouse
Our team headed to Forgotten Harvest Warehouse in mid-November to pack potatoes, peppers and tomatoes for distribution to local soup kitchens, churches and families. In total, our team packed over 14,000 pounds of fresh food.
Futures Foundation
The Futures Foundation is committed to enhancing lives, making memories and providing brighter futures for children and adults with developmental and intellectual disabilities. We were committed to supporting their efforts this year by helping them enhance their image and increase their reach.
Gleaners Community Food Bank
On December 12, Eric Bunch volunteered at the Gleaners Community Food Bank Warren Distribution Center. He, and a team of volunteers, packaged hundreds of two pound bags of frozen squash to distribute to those in need.
Grandvue Nursing Home
Kelly Vivian enjoyed her volunteer day at Grandvue Nursing Home in Charlevoix, MI. She gathered residents from their rooms and took them to mass, then helped bring them to lunch. After lunch, Kelly assisted the residents with Christmas crafts and activities.
Greater Lansing Food Bank
For her volunteer day in late December, Abby Meirndorf volunteered at the Greater Lansing Food Bank. She packed snack boxes for seniors and stuffed boxes full of food to send out to local food pantries.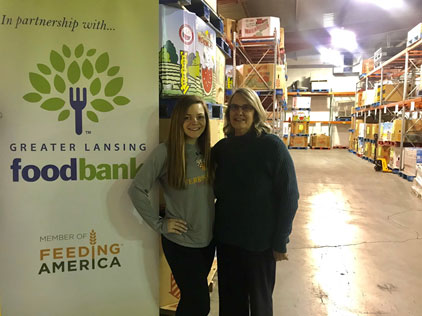 Hope Closet
In April, Christina Tebbe, Kaitlynn Crane, Abigail Wilkins, Laura Pryor and Colleen Lowry volunteered with Hope Closet, a nonprofit that gives young women the chance to find the dress of their dreams for high school events, regardless of financial constraints. Our team sorted, hung and organized dresses for the students to shop later that day.
Henry Ford Health System Game on Cancer
For the second year in a row, Brogan & Partners supported Henry Ford Health System's initiative, Game on Cancer, with a wine tasting fundraiser. At the July event, we hosted hundreds of attendees at our office, auctioned off donated items, sipped wine and supported cancer patients and their families. In total, we raised over $10,000 for Game on Cancer.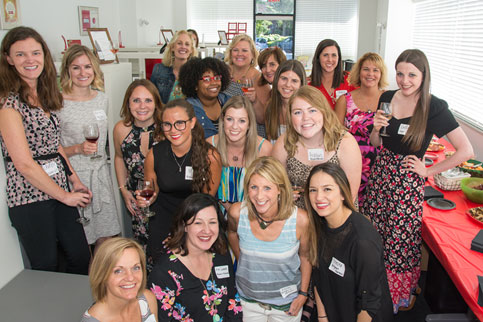 Lighthouse of Oakland County
The Wednesday before Thanksgiving, Emily Marchak volunteered with Lighthouse of Michigan Food Pantry. She sorted and boxed Thanksgiving foods, including pie mix, beans, corn bread, stuffing, canned yams and more for families in need. Once the food was packaged, volunteers loaded the food in trucks, prepared the gym for the next group, unloaded additional food items and organized the storage rooms.
Love, Team Tessa
Love, Team Tessa is an inspiring organization that fights childhood cancer with research and kindness. Our team was honored to support this great cause with branding and outreach again this year.
Oakland County Animal Shelter
After spending the morning at Forgotten Harvest Warehouse, Laura Pryor visited the Oakland County Animal Shelter & Pet Adoption Center to play with kittens and other shelter animals.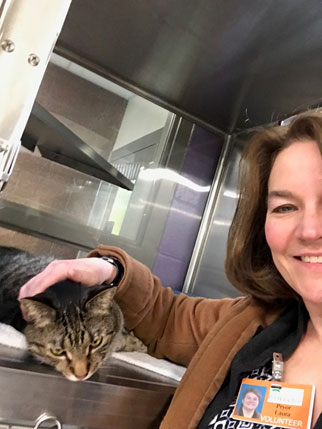 Operation Good Cheer
During November and December, Abigail Wilkins worked with Operation Good Cheer to brighten Christmas morning for children in foster care. She shopped for gifts for eight children, then wrapped the gifts and prepared them for distribution. The gifts are later loaded onto airplanes of volunteer pilots and flown around the state to each child's foster home.
Pearls of Great Price Coalition and Anchored Hope
Throughout the year, Julia Mastropaolo organized and provided marketing direction and promotion for many human trafficking education and awareness events. She also participated in street outreach, providing food, hygiene, comfort and prayer to human trafficking victims on the streets of Detroit.
Ride to the Polls
In November, Deb Wood volunteered with the Washtenaw Democratic Party to provide a ride to the polls for individuals on election day.
Scleroderma Foundation Michigan Chapter
Each June, the Scleroderma Foundation Michigan Chapter hosts Stampede Scleroderma, its signature fundraising event. Brogan team members helped advertise the event and volunteered on event day. Over 1,000 community members showed up to walk and run for a scleroderma cure, raising $130,000 for the cause.
Our work isn't stopping there. See how we helped the community last year and what we have in store for 2019.