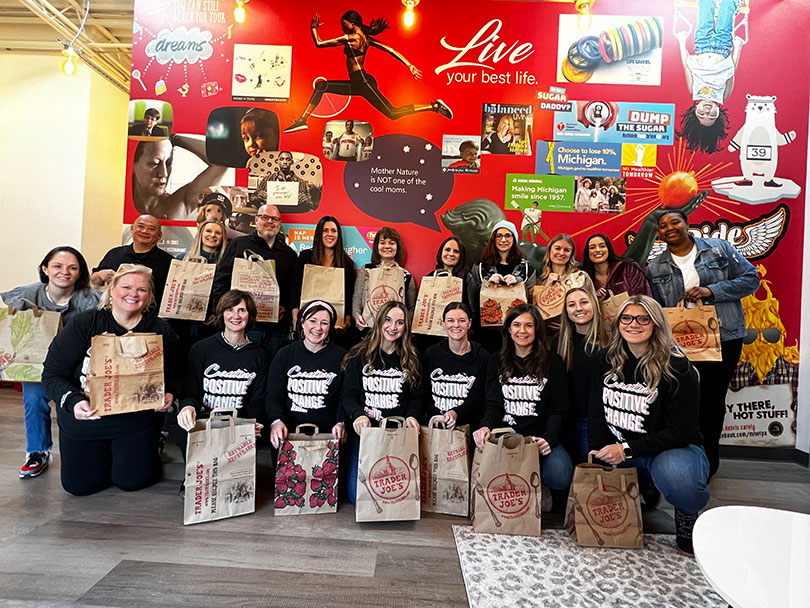 Our community is overflowing with organizations and areas of need. It's also overflowing with kindness from people willing to lend a hand. Throughout 2022, we encountered so many people and projects that perform critical work in our communities. Organizations that offer food, emotional support, clothing, money, hope and so much more. And to do our part, we rolled up our sleeves to help both as individuals and as a team.
At Brogan & Partners, creating positive change is woven into our DNA. It's why we're proud to give 5% of our profits back annually in pro bono, volunteer, nonprofit board commitment and monetary contributions. 2022 was no exception. See how Brogan & Partners spent the year learning, growing and giving back.
Individual volunteer days
Our Brogan & Partners team includes individuals of all backgrounds, locations and interests. To help everyone pursue projects and organizations they're passionate about, each team member is afforded one full day of paid time off to dedicate to volunteering.
This year, the majority of our team took advantage of their individual volunteer days.
They gave their time to food banks, blood drives, women's groups, animal shelters, holiday drives and more… and are making plans for next year's opportunities.
Group volunteer work
2022 brought three incredible group volunteer opportunities for our office:
Forgotten Harvest Community Garden

In July, we grabbed our boots and gardening gloves and spent the afternoon at the Forgotten Harvest Community Garden. The organization's garden supplements their surplus food donations to help Forgotten Harvest give 144,000 pounds of food to local charities every Monday-Friday. Our work on the farm included preparing beds and planting new rows of food to nourish the community.

Oakland County Animal Shelter

October brought our next group volunteer event with the Oakland County Animal Shelter. Those who know Brogan & Partners know our love for furry friends runs deep (it's why we have an open-door dog policy at the office). We enjoyed an afternoon playing with and walking shelter animals and decorating the office for the upcoming holiday season.

Make-A-Wish Michigan
When our CEO Ellyn Davidson joined the board of Make-A-Wish Michigan, she brought the opportunity to get involved to our office, too. Make-A-Wish currently has a surplus of wishes waiting to be granted but a need for volunteers to make them come true. 10+ Broganites volunteered to complete an in-office training and will be joining the organization to make these special wishes a reality.    
Social media giving
Brogan Gives Thanks to Teachers was an initiative started early in 2022 after seeing the inspiring work of educators throughout the pandemic and its aftermath. Each month, we called Facebook followers to nominate a deserving teacher by commenting their name and school. Then, we randomly selected a winner and sent them $500 to help their personal or professional life. It was a wonderful outpouring of love for educators across the state… we appreciate all you do! Learn more about the campaign and see the results here.

Juneteenth brought an opportunity to celebrate freedom and show support for the Black community. We asked Facebook followers to nominate causes making strides in equality and awareness. The following day, we randomly selected 10 of them to receive $300 donations.

Giving Tuesday Giveaway is one of our favorite annual traditions at Brogan & Partners. Followers can nominate a cause that's close to their heart for the chance to win a donation, and we randomly select 10 of the nominations to receive $250 at the end of the day. It's an inspiring way to find new causes, connect with the community and give back.
Holiday contributions
The holidays are a special time to give back for our office. We took our 2022 giving to a new level by giving back with our client holiday gift.
The idea: Give 150+ bags of groceries to the community in honor of our 150 clients.

The execution: Assembling this much food required a group effort. A pack of Brogan team members met up for bulk shopping, filling carts and trunks with everything from canned goods to condiments, baby formula to baking mixes. Once the shopping was complete, our office pitched in to unload cars and deliver donations to the food bank. In addition to gifting in their honor, we gave each client a reusable grocery tote to take on their next shopping trip.

Our final contribution of the year was a holiday office gift drive for Sanctum House, a safe haven for women survivors of human trafficking. We collected monetary and gift contributions and delivered them to this incredible cause.
How did you get creative to give back this year? What organizations most inspire you? Spread the word so we can continue supporting our community in 2023.
Learn more about Brogan & Partners' mission to give.