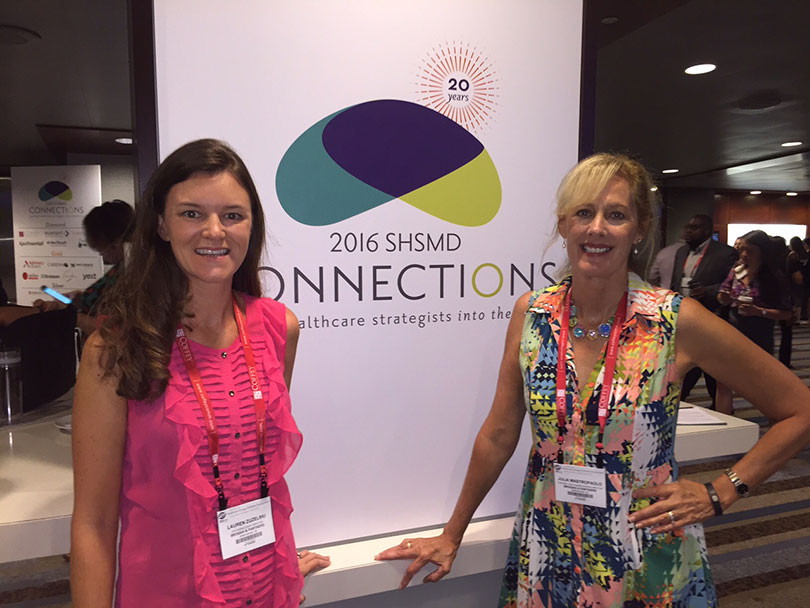 Thinking back on the SHSMD healthcare marketing conference of last week, I marvel at the awesome mix of HC industry trends and info, keynote speakers, networking and entertainment. While many deserve applause for their efforts, below is my take on those stand-out people and organizations who are the "SHSMD 2016 Academy Award Winners"!
Best New Lingo – "eye-dropping" (akin to eavesdropping), a term coined by keynote speaker, Ron Zieger, MD, CEO of Smart Patients, when referencing Google Glass for telemedicine, as it allows even an overseas doc to see the same thing as the bedside doc. Not to mention increased doctor-patient eye contact, as there's no need for EMR eyes.
Best Persona Mapping – goes to Scripps Health for taking the consumer journey into not only the converted, but the non-converted, mapping personas and why they DIDN'T choose Scripps, to aha, learn and improve for next time. Of course with 65 folks in their marketing department, they have time for such travels!
Best Patient Experience – goes to not only Community Hospital of the Monterey Peninsula, but specifically to Eric B. Lo Monaco, Director of Diagnostic and Interventional Radiology, who radically improved the patient experience and HCAHPS ratings of this hospital. His "Excellence 24/7" concept is simple: Instant Service Recovery (ISR) before the patient leaves the hospital (and posts a negative Facebook comment, or gives low ratings on the HCAHPS which comes a staggering 6 weeks later). How? With QR codes and his cell phone number posted in high patient experience areas, nudging patients to express any concerns, complaints, or discomforts. Instant rewards for staff who exceed ISR expectation. Instant shared documentation for staff needing corrective action. Eric's strategy of a radically prompt response to every call or email (even if it means apologizing to a female patient in the Radiology dressing room who was given feces-stained hospital underwear) and getting staff on board, has resulted in radically increased HCAHPS "Overall Quality" and "Likelihood of Recommending" scores. And his fight for "Eye-Face vs. Facebook" has spread from his Radiology department to the entire inpatient unit. (Don't worry – he now has others on call duty and can take a vacation!)
Best Nontraditional Consumerism –Unanimous vote for Spectrum Health, who in their mission to make healthcare desirable, as in "I can't wait to use my insurance card!" and "boundaryless" as in anywhere/ anytime, is launching co-branded Spectrum Health-Meijer pharmacy consumer products. Think "Spectrum Health doctor-recommended" which sounds way better than "CVS brand" when selecting vitamins or pain relievers for your family. The goal, says Roger Janssen, PhD, Senior VP and Chief Strategy Officer, is to create an ecosystem of health, meeting people in their health journey. Also on the Spectrum horizon: a cool space with yoga, coffee shop, culinary classes, and DIY health tools where member suburban moms can hang out; a lower level, more affordable concierge-type direct primary care model; and preventative genetics.
Best New HCAHPS Metrics – and yet another award goes to the brilliant Ron Zieger, CEO of Smart Patients, who shared his POV on what patients should be rating. First, his HMDIS, or How Much Does it Suck metric. He advises empathizing with patients when talking to them with "We know this sucks for you…we wish we could make it suck less!" Pretty authentic! And secondly, his "Time in Snow with Family" metric, which relates to quality of life after hospital encounter. So true!
Best Keynote – goes to the endearing Ann Compton, former ABC News White House Correspondent, who enlightened us with what it was like to accompany various presidents in monumental moments, such as when President Bush learned about the 9.11 plane crashes (appropriately and sadly shared with us on the 15th anniversary of 9.11). Her personal insight was delivered with a wit, intelligence and elegance, distinctive of this delightful lady.
Best Entertainment – Hands down the Second City show designed specifically for us, chockful of gut-busting healthcare marketing related improv and skits reminding us of our daily struggles back home (like pacifying the age-old Dr. Ego who wants his face plastered on major thoroughfare billboards).
Of course, these are only based upon the sessions I attended. I would love to hear who and what your awards might be!
For more on healthcare marketing trends and insights, sign up for our monthly edition of the Brogan Healthcare Checkup.