Another August, another Susan G. Komen 3-Day. As you read this, I'm walking my fifth 3-Day with the 40 friends and relatives who make up Team Ta Ta Breast Cancer. We'll be walking 60 miles over the course of three days. To participate, each of us has raised at least $2,300 to support breast cancer research and awareness.
I can't tell you how proud I am of that number. Since its inception, Team Ta Ta Breast Cancer has raised $551,969.55. Every 3-Day, I'm happily incredulous that we can raise all that money simply by walking. (And walking and walking.) Grueling though it is, sometimes I wish I could have this opportunity more than once a year.
Well, now I do. An iPhone/Android app called Charity Miles allows you to raise money for your miles every time you step out the door.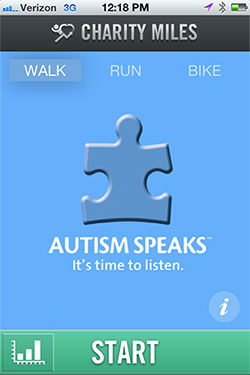 Here's how it works:
You download the free app onto your phone and choose a charity. While I'm disappointed that Susan G. Komen isn't among the choices, the ten that are available are a great and diverse bunch including Autism Speaks, the Nature Conservancy, Feeding America, the ASPCA, and The Global Fund to Fight AIDS, Tuberculosis and Malaria.
Next you simply start walking, running, or riding your bike. A GPS system within the app will clock your miles, then a million-dollar, corporate-sponsored fund will contribute money to your chosen charity—ten cents per mile if you're a biker and twenty-five cents per mile if you're a walker/runner. The only cost to you is the phone battery recharge you'll need to do at the end of your outing.
I love this idea of turning your daily exercise into philanthropy. But the creators of Charity Miles don't want it to stop with each walker or biker. Part of their mission is spreading the word.
"Walking, running, and biking for charity isn't just about raising money. It's also about making a statement and showing your commitment to your cause. Therefore, when you finish a Charity Miles session, we encourage you to bolster your impact by sharing your achievements and showing your commitment to your charity on Facebook and Twitter."
I've used similar language when describing why the 3-Day is so long and so "expensive."
"People aren't going to give you this much money unless you do something big and dramatic," I've told friends who wonder why I do this every year. "It's making a statement."
Now with this app, I can raise money without big drama, too—just the occasional ping on my social media outlets and a whole lot of hoofing.
I'll definitely have my Charity Miles app running this weekend while I'm out on the 3-Day course. It'll give me one more thing to feel good about as I tick off every mile.
What about you? Do you see yourself using something like Charity Miles to raise funds for your favorite cause?