We are always trying to think of ways that our healthcare clients can successfully tap into social media in order to help them reach their marketing goals. And with an industry that is slow to adapt to leveraging social, it's hard to convince them that it's imperative to participate (especially when there isn't much research or good samples to reference that support the fact that it is worth the investment of time and money).
So, when The Health Research Institute released an analysis of health care and social media, I was extremely interested to see what the data said and how it could be applied to our current and future healthcare clients.
With that, I have honed in on some of the research that I found most relevant to our hospital clients, and have included 9 insights that should be considered when developing your social strategy.
Those with poor health are more likely to engage about health.
This is really interesting – as the ultimate goal on social platforms is getting people to truly engage with your brand. With this, hospitals could think about developing campaigns and social programs specifically around a disease state. For example, we have seen many children's hospitals doing a good job at breaking into social, as their audience seems more engaged than those on the hospital's brand page. So, it would be interesting to see if service line pages specific to a disease state would do better, such as a page for your breast cancer center, to serve as a health resource.
18-24 year olds are the most likely to trust/share/engage via social media regarding healthcare.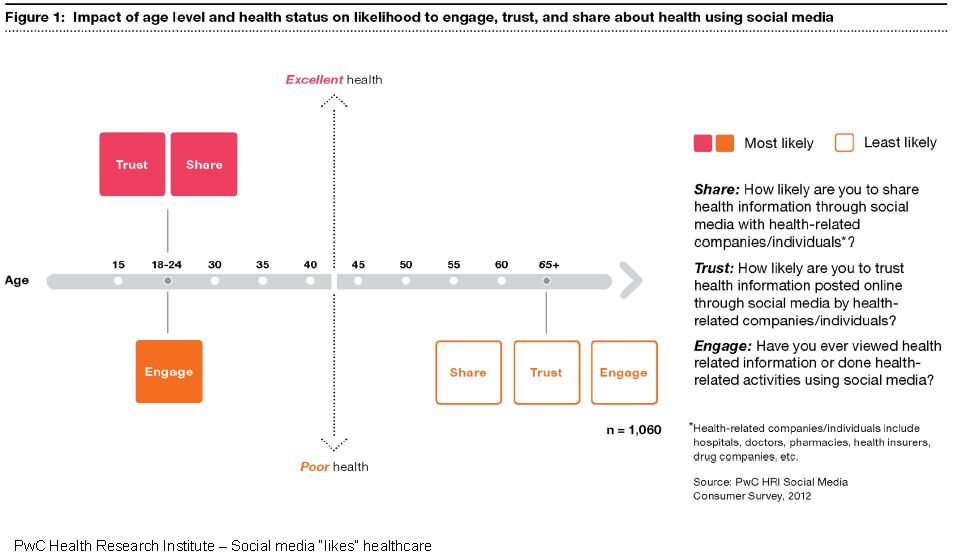 This brings me to the fact that one of the greatest times to build a relationship with the female healthcare decision maker is during the time she has her baby, as it's one of the most positive experiences she will have with your brand. Perhaps you could offer an application that allows her to easily share photos and updates on her baby's development or an application that allows her to find a local playgroup. A unique application available for expectant mothers that is a nice reference for inspiration is available via babygaga on Facebook
28% of consumers have supported a health related cause.
I can truly appreciate this piece of data, as it proves that fans are passionate about health causes. An idea to put this to work could quickly increase your fan base/followers. Have your organization select a health cause to partner with and develop ideas and tactics to boost followers.
40% of consumers will post about negative care received at a hospital.
While maintaining a social presence is important to help build relationships with your brand, it is equally important to monitor social channels to find out what people are saying and what they're unhappy with, allowing you to improve the perception of the hospital. Be sure that this component is included in your strategy, as you may be surprised at how harmful not knowing what others are saying could be to your reputation. Supporting this is the fact that 41% of consumers said that the info they found via social media would affect their choice in selecting a hospital/medical facility.
42% of consumers are likely to post about a doctor/nurse/provider if they had a positive experience.
This data supports the thought that people may look to social for referrals or second opinions. Create an idea that with help foster sharing of positive experiences with your hospital, and make it something that people will really want to share. Be sure to ask yourself, what about this makes it interesting enough to share with others.
Most consumers expect to receive a response from a healthcare company via social media within 24 hours.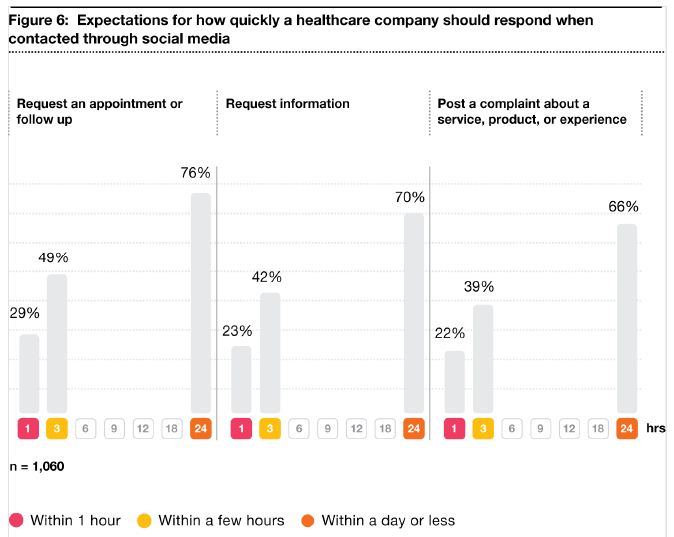 Be sure to build this into your plan and have a highly thought-out process in place to ensure that this can happen. Perhaps a simple "we are looking into this and will get back to you asap," just letting them know that you are responsive, concerned and timely.
Consumers want ways to make their healthcare easier to manage (doc apts., apt. reminders, discounts/coupons, continued support post-treatment).
Think of clever applications or tactics that can be incorporated within social outlets that will make people's lives easier – an app allowing consumers to schedule an appointment, an app that sends patients reminders about their appointments, exclusive coupons for health screenings (i.e. $20 off a heart screening). These serve as the content that is going to keep your fanbase engaged.
63% of consumers are concerned about sharing their health info, as they worry about public sharing.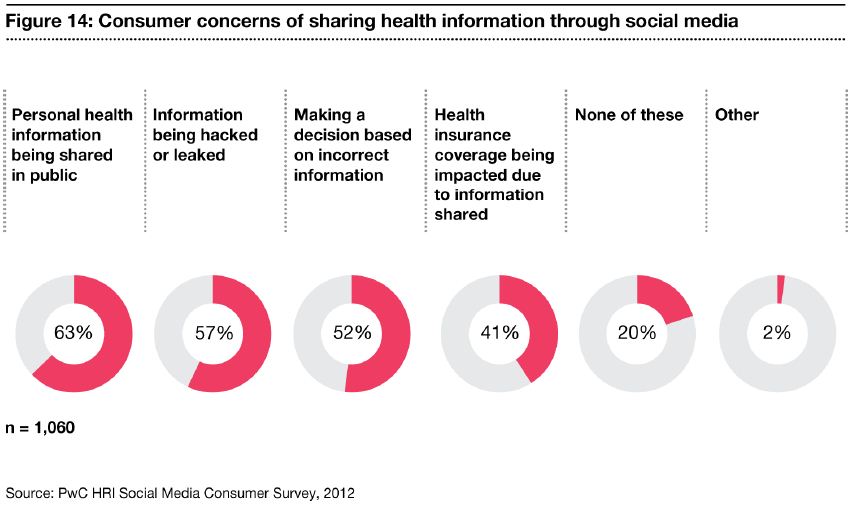 We know that for hospitals, HIPPA regulations have many worried about what they can and can't do. A great idea for remaining compliant,yet able to engage is to have a social policy in place guaranteeing that information will not be shared. A good starting point on information in regards to the rules for establishing a HIPPA compliant social media strategy can be found on a blog from HIVE strategies.
Organizations are most concerned about integrating social media data/analytics and measuring the effectiveness/linking to ROI.
When developing a strategy and a social plan, it's important to set sound goals to measure the effectiveness of a campaign. Determine what is important and feasible to the campaign per the strategy. Is it increasing brand awareness? Be sure to measure your fan increase and retention. Is it spreading your brand message? Look closely and analyze how often something was shared. Or perhaps it is building an engaged fanbase. With this you can monitor comments, shares and feedback rates. Just be sure your goals are realistic.
Have you seen any good examples of hospitals using social well, with this data in mind? I would love to hear your thoughts.