Initially a friends-and-family photo sharing platform, Instagram has recently morphed into a commerce catalyst. With the advent of the new sponsored post format, brands are experimenting with paid promotion and infiltrating consumer feeds.
According to CEB, users are turning to Instagram for product inspiration. From user generated content to branded posts, Instagram is the forum for retailers to illustrate brands in action. It's where fashion bloggers are posting their involvement with brands. It's where celebrities are posting brand endorsements. And, it's where retailers are posting product photos—all of which influence consumers spending behavior.
It can be overwhelming to plant a flag in a new social channel. Given its rising influence, retailers need to make the effort nonetheless. Here are six ways for retailers to use Instagram to market brands successfully.
1. Optimize your profile
The bio section of the account profile is prime real estate for branded hashtags and website URLs. However, according to Chute, the URL should be more than just the homepage; it should be updated every few weeks, complementing campaigns and promotions. The same goes for your branded hashtag. Some retailers have even partnered with Like2Buy, a platform that links photos to products and caches the posts users "like."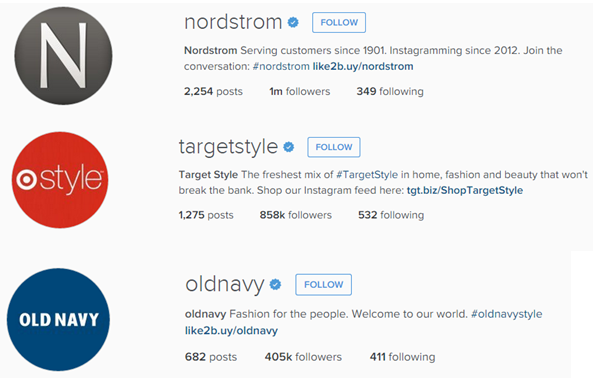 2. Don't be afraid to have a little fun
Lashes on fleek? Celebrating Pi Day? Or just toying around? Brands like Nordstrom, Whole Foods and Target are not afraid to have a little fun with their products. From clever "it" phrases, quirky holidays, to trending hashtags – brands are creating emotionally engaging, social shopping experiences.
3. Repost user generated content
Users are consistently posting their engagement with products. Retailers like Banana Republic and Old Navy are taking note, re-gramming content and sharing the love. Reposting user generated content is a great way to show appreciation and engage with the brand community.
4. Generate in-store hashtags
Utilizing an in-store or location specific hashtag could increase user generated content. Ann Taylor recently utilized the hashtag #LittleBlackDressed encouraging store visitors to take selfies in their garments. Whereas, Sur La Table asks their cooking class students to post photos of their creations with their store name and location as the hashtag.
5. Utilize influential users
Lord & Taylor recently teamed up with 50 top Instagrammers to debut their latest Design Lab collection. The chosen Instagrammers photographed themselves wearing a Lord & Taylor dress to increase awareness of the new collection. This tactic proved to be a huge success—leading to the dress to sell out.
6. Sponsor your ads
Leading up to the holiday season, Levi's promoted four posts on Instagram, which ultimately led to a 7.4 million reach and a 24 percent lift in ad recall. Although only select retailers are able to promote their posts, this type of sponsored advertising has proved to be a successful tactic to increase brand awareness. Other brands to experiment with paid promotion are Maybelline, Target and Old Navy.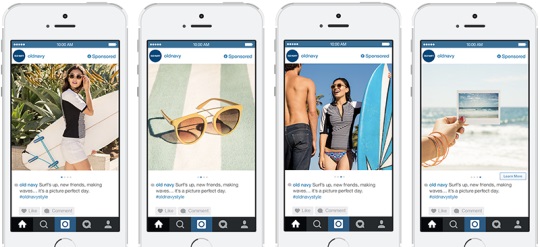 What retailers are you following on Instagram? Let us know in the comments below. And be sure to check out the latest post in this series – 6 Instagram marketing tactics for food industry brands.
For more information on how to market your business on Instagram, stay tuned to this blog series. In upcoming posts, we'll cover industry specific best practices, share a few examples, define different types of posts, and provide steps to launch your brand on Instagram. Meanwhile, take a peek at Brogan's Instagram account for inspiration.