Let's be honest. We've all snapped a photo of our meals at some point. Maybe it was the creative latte art, the mouthwatering Italian style pizza or the chocolate lava cake dessert that we never want to forget. We've all been there, and some of us even post these photos on our social channels.
Why? According to CEB, it is because "food has become a visual medium. We're eating with our eyes first," said writer David Sax, author of The Tastemakers. This comes as no surprise, and brands are taking note. From Chipotle to Whole Foods, brands are utilizing Instagram to build their brand communities and share their story, visually.
Here are six tactics to develop your food industry brand on Instagram:
1. Be relatable – Lifestyle stock images have their place on branded outdoor boards and print ads, but not on Instagram. Users want to see real people interacting with the product. Whether your products are on a bike ride, on your desk at lunch, or just sitting outside etc.—presenting your product in real-life, relatable settings are crucial for brands to become accepted.
2. Repost – To find out how to showcase real people using your product, turn to your followers. Instagram users are quick to post their Dairy Queen ice cream runs, lunches at Panera and even that recipe from Bon Appétit magazine. Track how your users engage with your brand and repost those that positively reflect your brand messaging.
3. Promote news – New store? New flavor? Post it! Ben and Jerry's took to Instagram to announce their new ice cream flavor. While utilizing paid media, Ben and Jerry's was able to reach 9.8 million people with 17% more users becoming aware of the new flavor.
4. Host contests – From like-to-win, comment-to-win, repost-to-win, a photo challenge or a combination of a few, contests are a strategic way to increase engagement. The prize could be anything from a repost, gift card, free products or even large sweepstakes. Oreo recently hosted a contest asking users to post playful photos with the Oreo cookie. Users were to also include the hashtag #PlayWithOreo for a chance to be regrammed.
5. Be relevant – The Dress, new emoji release or Throwback Thursday. Whatever the trend may be, brands need to be ready for real time responses. Taco Bell responded to the release of the taco emoji, Pepsi posted their own version of the trending #ThrowbackThursday, and several brands responded to the Marriage Equality ruling. Bottom line—relevancy is key.
6. Be consistent – Successful brands on Instagram are those with consistent visual marketing. Finding the balance between lifestyle photos, product images, reposts, contests, etc. is crucial to maintaining a cohesive branded theme. Take Chobani for example. Chobani showcases their product in real, relatable situations (i.e. for breakfast, as an afternoon snack, or as a tasty new topping on tacos, etc.). Chobani uses paid media for specific campaigns and repurposes user generated content. They're ready for real-time responses, and they have fun with creative visual pairings, all while keeping to their brand image.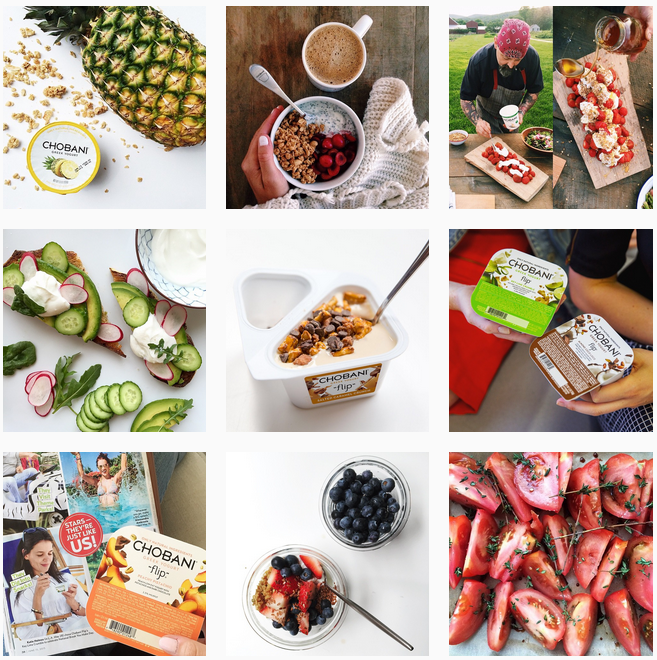 What food brands do you follow on Instagram? Sound off in the comments below, and be sure to check out the previous blog in this series – 5 ways hospitals can be successful on Instagram.
For more information on how to market your business on Instagram, stay tuned to this blog series. In upcoming posts, we'll cover industry specific best practices, share a few examples, define different types of posts, and provide steps to launch your brand on Instagram. Meanwhile, take a peek at Brogan's Instagram account for inspiration. Or download our free whitepaper: Why your business should be marketing on Instagram.