Millennials love holidays so much that they're creating even more reasons to celebrate throughout the year. This is good news for retail brands that love a great party and the gifts and trappings that go along with it.
But take heed before your send that first eblast, push that retail app or place that first spot this holiday season: If you want to get in on Millennials' $1.99 trillion purse, you need to get to know them first.
For example, with most brands, it's about increasing brand recognition and association. Whether it is the fire-glazed ham you have every year or that peppermint mocha latte that becomes available every November, brands want to engage with consumers during the holiday season.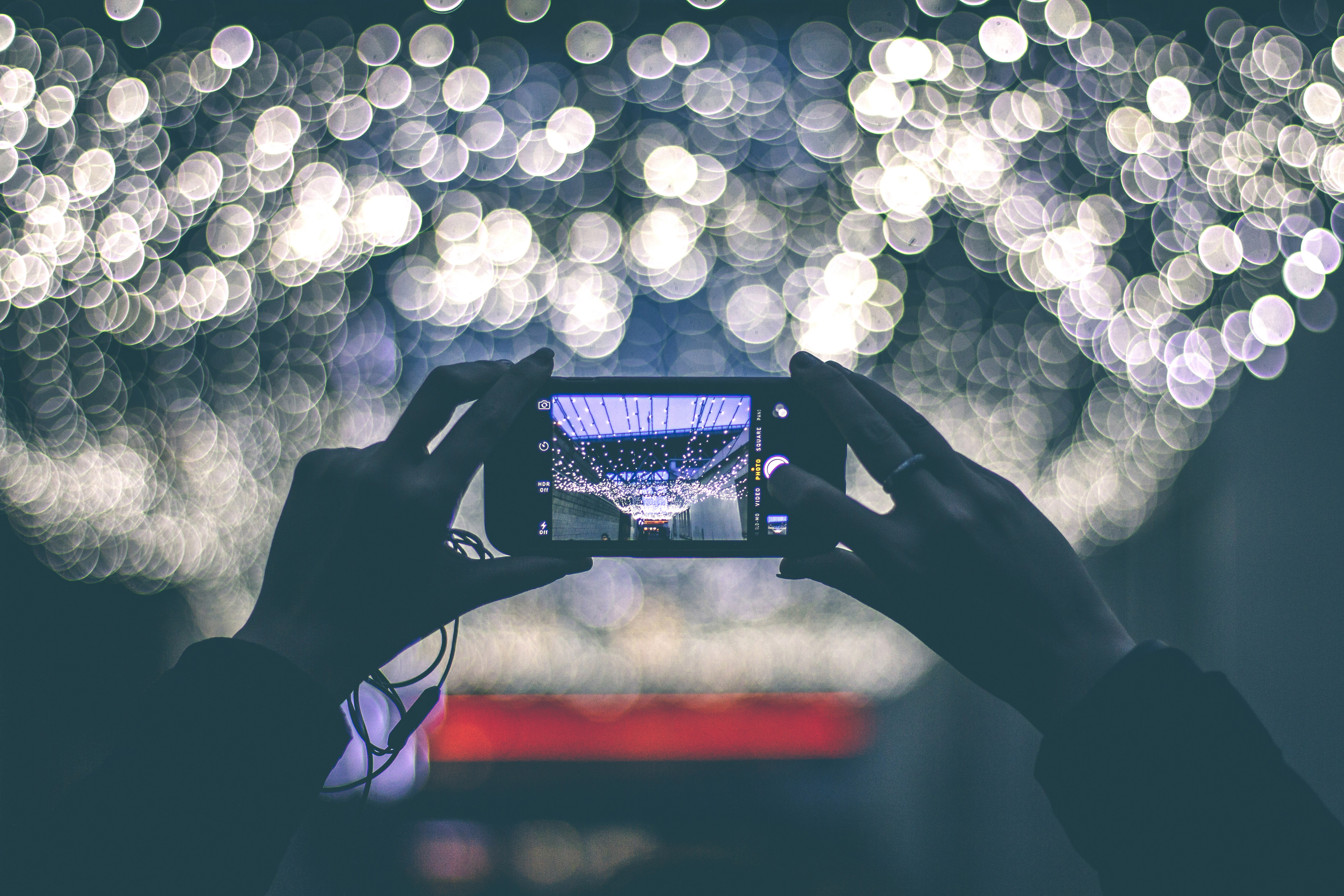 However, for Millennials, it's a bit different. Holiday traditions are still important, but there are some clear cut differences and redefinitions of family, tradition and holiday.
So, how will Millennials shop during the holiday season?
Here are five things brands should consider when holiday marketing to Millennials:
1. Friend + relatives = family.
More and more Millennials are redefining the family unit to include anyone with whom they share personal experiences. You don't technically have to be a relative to be a cousin in their family tree.
Cue the modern family. Not only is the family unit expanding, but the idea of a "traditional" family is also being redefined. Same sex parents, mixed race, blended families etc. are now the norm. Brands that showcase the modern family within their holiday marketing this year will have a greater chance of winning this audience over.
2. Celebrate good times, come on.
According to CEB Iconoculture, Millennials are celebrating more than just the traditional holidays. Super Bowl Parties, May the 4th Be With You celebrations (for Star Wars fans), and single girls' gatherings for Valentine's Day are just a few ways Millennials are celebrating outside of traditional holidays.
Take Thanksgiving for example. A time typically spent with food, family and football, is now being supplemented with Friendsgiving, as Millennials are finding it just as important to visit with friends as it is with relatives.
YPulse conducted a study that surveyed among 998 Millennials to gather key insights on how this cohort was planning on celebrating Thanksgiving. Of those surveyed, 95 percent said they will be celebrating Thanksgiving and 21 percent plan to celebrate Friendsgiving. See the infographic below for more on this generational twist on tradition.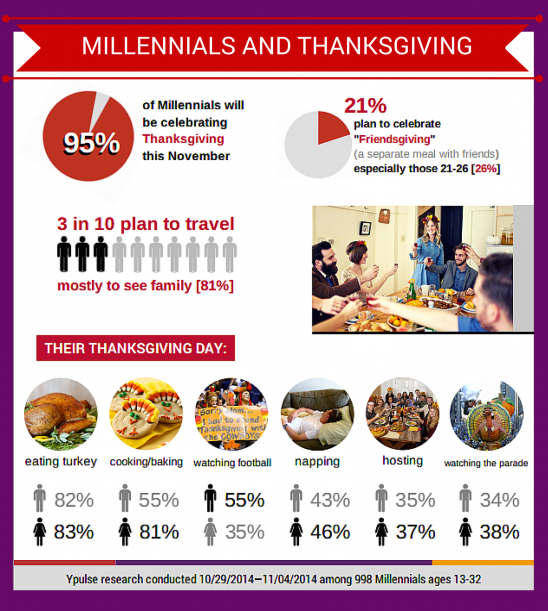 Recognizing how Millennials celebrate traditional and non-traditional holidays will be crucial for marketers as they align their holiday marketing strategy to attract this cohort.
3. Mobile means mo-money.
Want inside Millennial wallets? Get inside their phone. Instart Logic conducted a study that surveyed Millennials, asking them how exactly they plan to shop during the holiday season. Instart Logic found that:
Four in five will shop from mobile devices
57 percent prefer to shop using a browser over a branded app
65 percent said they will use their device at home when shopping versus the 35 percent that said they will shop on the go
Mobile users also gave insights as to what their biggest frustrations are when shopping on mobile. Slow load times, pixelated or too small of images, slow checkout process, lack of interactive features and sites that are not mobile friendly will not win business with your brand.
Does your brand have a mobile application? Is your site mobile friendly? All things to consider.
4. Affordability is key.
The holidays are already stressful as it is. From the parties to attend, crowds to handle, gifts to wrap, desserts to be responsible for, it's no wonder anxiety levels rise 30 percent during this joyous time. Benefits Pro notes the following as top stressors for Millennials during the holiday season:
65 percent said shopping for gifts and necessities
44 percent said crowds
60 percent cited finance
Noting this, brands should incorporate specials, promotions and discounts into their holiday marketing strategy to relieve these key stressors. These deals should also be offered in-store and online to cater to those looking to avoid holiday crowds. Brands looking to engage with Millennials should note not only the interests of this audience, but also what stresses them. Once this information is gathered, brands should strategize how to assert themselves as a solution to financial and holiday stresses.
5. Social media is a must.
Twitter, Facebook and Instagram are key platforms for brands to have a presence on, especially when looking to engage with Millennials. According to Pew Research Center, of the Millennials surveyed:
53 percent are on Instagram
87 percent are on Facebook
37 percent are on Twitter
One way to increase engagement with this audience is through in-store hashtags. Encouraging users to post photos with your branded hashtag to their social channels will increase brand engagement and awareness. Posting the hashtags on the dressing room mirror in your store and or at the cash register will encourage social engagement, not to mention increase consumer-generated content.
In order to resonate with Millennials, marketers must first understand the modern family dynamic. Showcase diverse families within holiday spots: radio and TV. Advertise to the expanded family circle. Market to more than just the traditional holidays observed on the calendar (i.e. May the 4th Be With You, Super Bowl etc.). Acknowledge the varied celebrations of holiday seasons (i.e. Friendsgiving). Make your brand mobile, affordable and shareable.
For more on this cohort, check out their five fast financial habits.