It's officially the holiday season. Starbucks launched this year's holiday cup and HoneyBaked Ham is getting social to boost sales.
Brands are also getting seriously seasonal on Pinterest.
Known as the "visual bookmarking tool that helps you discover and save creative ideas," Pinterest is a strategic platform for holiday marketing. If you're a brand looking to engage on the platform, the promoted pin is a great format to increase brand awareness and engagement. Pinterest's general manager of monetization, Tim Kendall, noted that Pinterest is showing brands impressive engagement rates—for every 100 promoted pin impressions, brands see 30 free views thanks to repinning.
Pinterested? Here are four formulas brands can use to promote on Pinterest this holiday season:
1. Suggest gift ideas.
Let's face it. Sometimes we need a little help when shopping for our significant others. With all that goes on during the holiday season, shopping can be difficult. That's where Pinterest comes in. Pinterest is the hub for inspiration, especially when it involves gift giving. Recognizing this, brands like Macy's and Belk have curated a collection of great gifts for him, her and the home.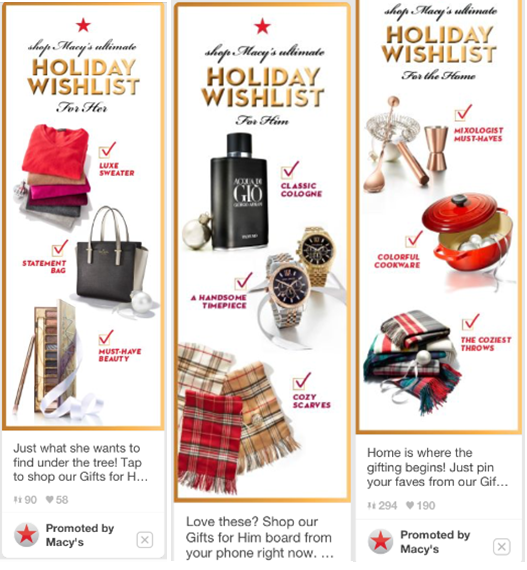 If you're a brand that offers multiple products, this format is a great way to showcase them and increase brand awareness.
2. Use cinematic pins to command attention.
In May, Pinterest announced a new ad format for marketers, welcoming the cinematic pin. This ad format is motion-based, so when you scroll, the pin begins to animate. When you stop scrolling, the pin stops moving. This type of formatting enables enhanced storytelling for brands while giving users control.
Not only does the cinematic pin enhance the branded story while keeping the user at the top of mind, but the animation captures your attention. Brands are utilizing this format in creative ways. A number of brands have already tested the format, including Unilever, The Gap, L'Oreal, Nestlé, Walgreens, Target, Visa and Wendy's.
As part of their holiday marketing strategy, Fossil used this format to animate a  Christmas tree built with the merriest must-haves for every purse(on) on your shopping list.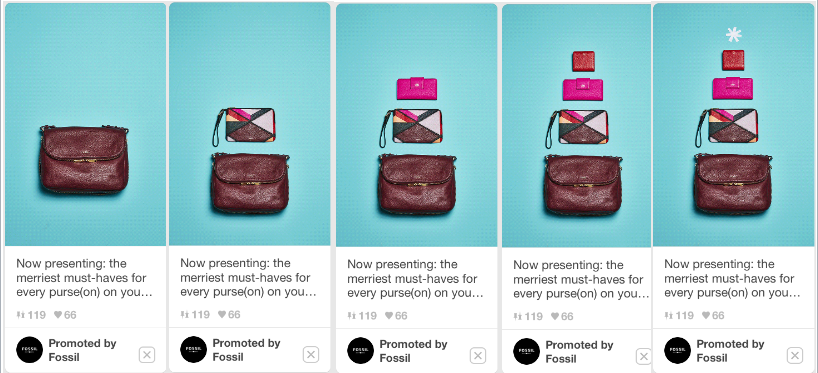 3. Share quick and easy recipes.
Pinterest users interact with promoted pins in many different ways. They dream, plan and build.
Brands like Oreo, Toll House and Hidden Valley use promoted pins to help with party planning and inspire holiday meals. Whether it's a fun pumpkin patch, adorable turkeys or playful helmets for Thanksgiving football games, Oreo is using Pinterest to showcase their versatility this holiday season.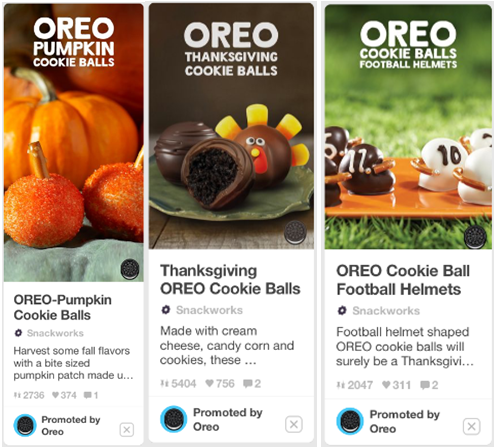 4. Increase purchases with the "buy now" button.
It's no surprise mobile purchases are increasing. Almost everyone has a smartphone today, allowing easy access to mobile apps and banking. Millennials are specifically more inclined to make a mobile purchase. Instart Logic found that:
Four in five Millennials will shop from mobile devices
65 percent of Millennials said they will use their device at home when shopping, versus the 35 percent that said they will shop on the go
Millennial women, specifically Millennial mothers, are among the many who are avid mobile spenders. eMarketer reports that of the moms ages 20-35 who are online:
47 percent primarily made digital purchases via their mobile phone or tablet
62.1 percent searched for or downloaded mobile coupons
According to Constant Contact, 47 percent of U.S. online shoppers say they bought something as a direct result of a Pinterest recommendation.
With all of this in mind, it's no wonder why this platform began supporting buyable pins. If you're a brand looking to increase purchases, get started with the "buy it" pin.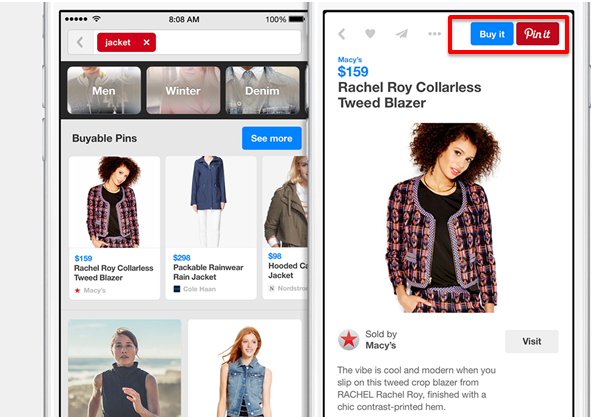 For more information about social media, be sure to check out our free whitepaper: The Evolution of Social Media Marketing.