From cave paintings in Lascaux, frescos in the Sistine Chapel and Campbell's soup cans with a dash of Warhol to billboards, commercials and now Instagram, visual storytelling has always been popular and powerful.
According to Hubspot, 90 percent of information transmitted to the brain is visual. We process visuals 60,000 times faster in our brains compared to text. NewsCred notes that 44 percent of users are more likely to engage with brands if they post pictures. Being the visual-only social platform that it is, Instagram is a powerful and strategic medium for any brand or business looking to build a community and share their story visually.
Start with these four popular formats.
1. Standard photograph
The standard photograph on Instagram is a perfect square. However, in addition to square posts, Instagram now supports portrait and landscape styled images. This allows users and brands the opportunity to share their visual story as they wish. Instagram notes that nearly one in every five posts are not in square format. To accommodate user behavior and trends, full sized posting is now readily availble.
Instagram has also updated their own photo editing services with the Layout App that, upon downloading, will take you from Instagram to the application. Layout From Instagram allows users to experiment with mirror, flip and other formatting.
2. Video
Instagram's formatting currently allows for 15 seconds of video. What brands do with those 15 seconds is completely up to the imagination. Brands are using slide show-like capabilities, time-lapses, slow motion, stop animation as well as videos with text and visuals. The choice is yours. Just make sure its compelling and on-brand.
3. Cinemagraph
Probably one of the most captivating ways to advertise on Instagram is with the cinemagraph. A cinemagraph incorporates still images and video. Brands like Budweiser, Dunkin Donuts and Oreo are venturing into this latest trend.
4. Carousel Ad
If you have the budget (and Instagram's blessing), put some media muscle behind your Instagram account through paid promotion. Instagram has opened up paid advertising to select brands. Some are using the carousel format that allows viewers to swipe through multiple branded images in one post, like GMC executed below.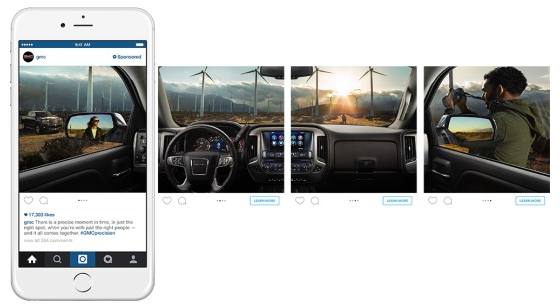 What formats do you use? Let us know in the comments below. You can also catch up on the latest post in the series – 7 ways to grow your small business on Instagram.
For more information on how to market your business on Instagram, stay tuned to this blog series. In upcoming posts, we'll cover industry specific best practices, share a few examples, define different types of posts, and provide steps to launch your brand on Instagram. Meanwhile, take a peek at Brogan's Instagram account for inspiration.