How do you feel about holiday shopping? Are you excited? Completely dreading it? Or just adding it to your to-do list. Here are three things marketers need to know about this year's holiday shoppers.
Consumers feel stressed and excited.
According to a CEB Iconoculture survey, consumers were asked: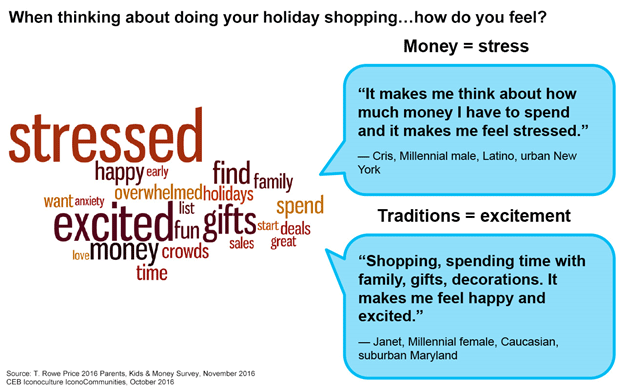 While stress does top the list of emotions felt during the holidays, consumers are also excited to participate in holiday traditions with friends and family. Not only are they trying to find the perfect gifts, they are just as excited to spend time decorating, gathering with loved ones for the holidays and celebrating the holidays.
Spending is up.
So how much will consumers spend this holiday season? New reports find consumers will likely spend $656 billion this season. According to CEB Iconoculture research, consumers expect to spend an average of $936 this year during the holiday season. While some try and keep to a holiday budget, 64 percent of consumers said they usually spend more than they should, while 58 percent admit they never stick to a budget.
But it is not all spending for spending's sake. Consumers plan to search for deals. According to CEB Iconoculture research:
46 percent spend a day searching for the best price
33 percent search for discount codes
26 percent travel more than one hour to get a deal
23 percent line up at the doors before a store opens
What's the worst thing about holiday shopping? According to CEB Iconoculture research, 27 percent of those surveying said shopping in crowds while 20 percent said picking the right gift.
What are consumers interested in? Inspiration and practicality. While 27 percent do not like crowds, a fair amount will go in store for inspiration. Whether it is attending in-store events or browsing for gifts for loved ones, consumers will visit stores. Another driving force, practicality. This means immediate product experience and of course good discounts. One in two consumers say finding a good deal beforehand will definitely get consumers to shop in-store.
How will consumers shop on multiple devices.
CEB Iconoculture research noted that 57 percent planned to shop on Cyber Monday. While this figure was noted before the two biggest shopping days of the year, Cyber Monday saw one of their biggest years yet. With a twelve percent increase since last year, Cyber Monday saw roughly $3.45 billion in sales this year.
According to CEB Iconoculture research, dollars will be spent across multiple devices: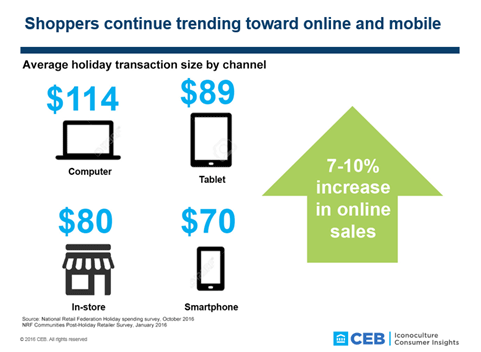 Need more on holiday marketing? Check out 5 things brands need to know about Millennials and holidays.