In less than a week, Pokémon Go has ignited a national gaming revolution. The mobile app encourages gamers to get up and get outside to play not only in the real world, but virtually too.
But that's not all. Pokémon Go is rapidly becoming the most downloaded and talked about game.
So far, Pokémon Go has more than…
Six million mentions on Twitter
15 million downloads on Apple's App Store and Google Play
33 minutes a day of playing time (compared to the 22 minutes a day spent on Facebook and 18 minutes on Snapchat)
So what's the hubbub? Here are three things you need to know about Pokémon Go:
1. Pokémon Go is an augmented reality gaming app.
What does that mean? It means the mobile app allows users to play in the real world as they catch and encounter Pokémon in the virtual world. As players walk around their neighborhood, local park, town, etc., their smartphone will vibrate when a Pokémon is near. Using the app, players can then catch the Pokémon virtually. The game also includes PokéStops where you can collect more Poké Balls and other items. PokéStops are located at known places around your city such as:
Public art installations
Historical landmarks
Monuments
After a certain point in the game, users are invited to join one of three teams. The three teams compete at designated locations called gyms. Gyms can be found at real locations in the world (i.e. libaries, town halls, etc.). Don't want to get all competitive? Don't worry, you can fun snapping pictures of Pokémon that appear near you. See here: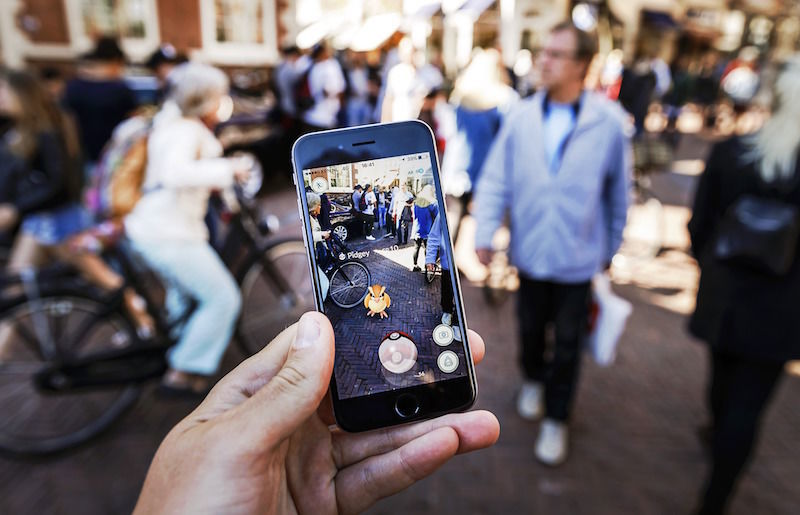 Photo credit: Kotaku
2. Pokémon Go has inspired small businesses.
Taking note of the several groups roaming the cities for Pokémon, small businesses are now "luring" them in. Store owners can actually purchase a Pokémon Go feature called Lures for as little as $1.19 an hour to drive foot traffic. See how CitySen Lounge, an eatery and bar in the CityFlats Hotel in Grand Rapids, Michigan decided to get involved…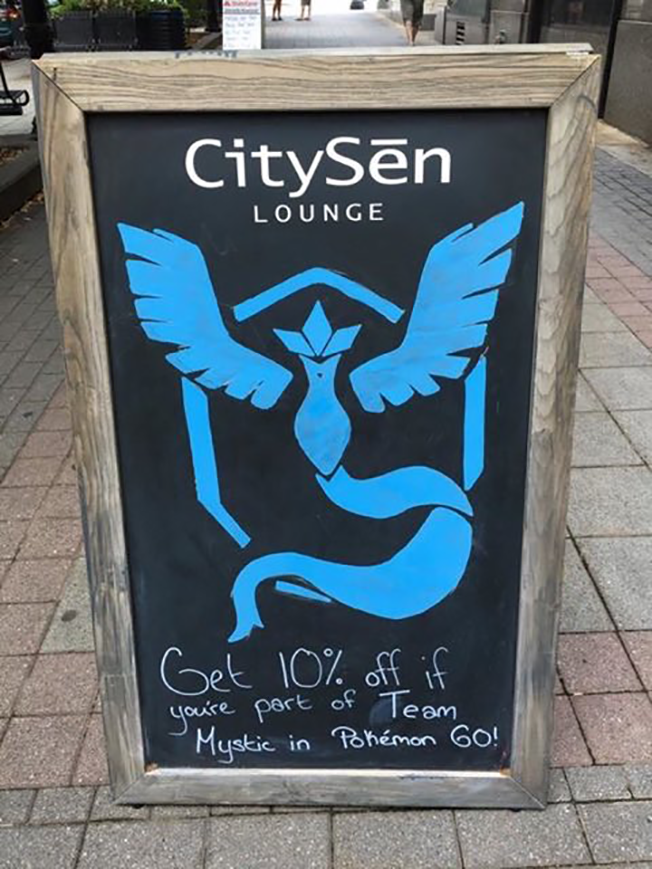 Photo credit: Adweek
3. Pokémon Go is the topic of branded conversation.
Best Buy, Mall of America, Draft Kings, Moe's Southwest Grill, M&M's and more are all joining the conversation. See here:
Trying to catch all the colorful characters? We understand how that goes. – The M&M'S Crew pic.twitter.com/x81gDZRg3U

— M&M'S® Brand (@mmschocolate) July 11, 2016

Even sports teams are talking about the craze: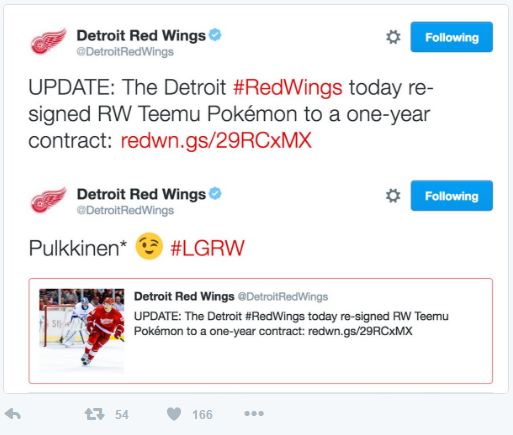 What does this mean for marketers? If anything, it introduced augmented reality gaming to a nostalgic, active audience. It encouraged brands to join the conversation and encouraged small businesses to take action.
What's next for augmented reality? What's the next big idea? Let us know in the comments below.
Meanwhile, if you like games (like we really do), check out our series on social gamification.