These days, we're all expected to wear a lot of hats. We juggle many jobs every day, and often, we need to learn how to do more with less: less time, less help and less money. That's often why companies choose to do their marketing in-house: to keep more control and keep a tight lid on costs. But it's hard to do everything well when more and more hats are being tossed into the mix all the time.
That's typically why clients connect with us. They've got great leadership and expertise, but are struggling to keep up with the changes in paid, owned, and earned media. It's just too overwhelming.
But how do you know it's time to partner with an ad agency? If you answer yes to one or more of the following statements, it's probably time.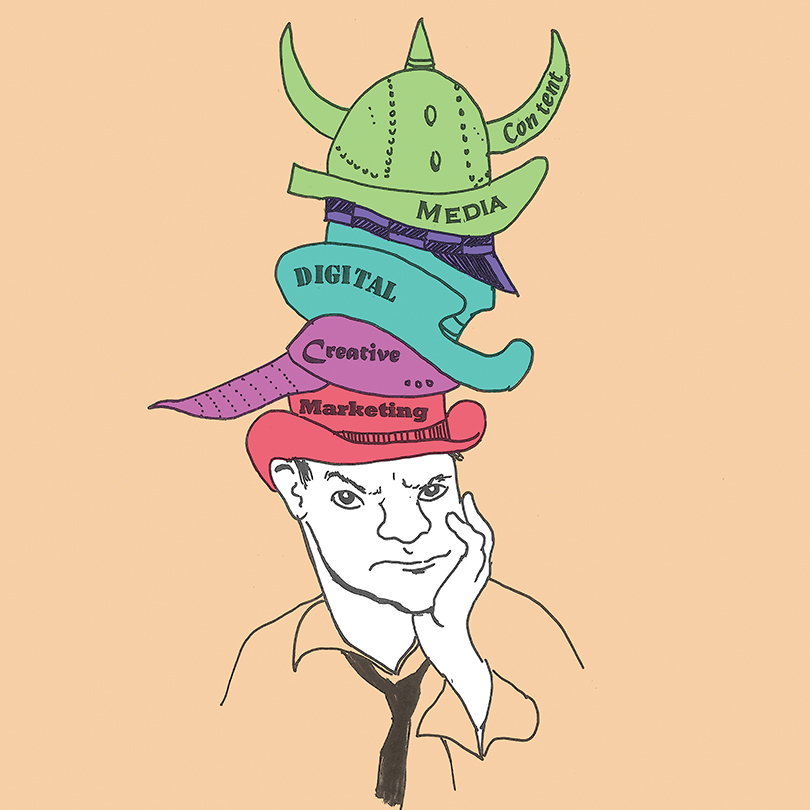 1. Your company and/or competition is growing.
If your company is growing, so are your marketing needs. And with growth comes expectation. If you are presenting yourself as a national player, your marketing materials need to reflect that level of quality as well. Or if your market is cluttered with competitors, you need to up your game to break through amidst all that clutter. Investing in the expertise to get you to that next level will pay off with high returns.
2. You have no clear and consistent brand voice.
This is the reason most clients hire us. They truly understand the importance of consistent branding, but given their huge workload, limited time and the amount of hands touching the work, consistency suffers. The print doesn't match the digital. The social doesn't match CRM. The video is a one-off. When your marketing materials aren't clear and consistent, your communication becomes murky—confusing consumers. Integrated marketing trumps one-offs every time. Consumers take a serpentine path to your door, taking assorted channels to get there. Your marketing communications assets need to be consistent throughout the convoluted buyer's journey, reinforcing your unique value proposition.
3. Your sales people and employees cannot articulate your brand in one sentence.
A television spot is 30 seconds. A digital ad can be three seconds. If your brand story takes three acts to tell with an intermission, your audience will be gone before you get to the punch line. The beauty of having a well-defined brand is that it's boiled down to your most essential truth. It's pure simplicity, which is something that is easy for your internal teams as brand ambassadors to share.
4. You have no content calendar or real strategy for your social media efforts.
Do you have a different strategy for all your social channels? You should. Each channel is different, and your content should reflect that. How many followers and friends do you have? Do they reflect your target audiences? Or are they mostly employees? With a social media content calendar, you can create better content that is more relevant, visually engaging and shareable. Your social channels are too important to post on a whim. Through visual series, gamification, contesting, and more strategic thinking, you can increase engagement and build better loyalty.
5. Your website is not mobile responsive.
According to Pew Research, nearly two-thirds of Americans are now smartphone owners, and for many these devices are a key entry point to the online world. If your website looks the same on a phone as it does on a desktop, you are not only missing out on opportunities with increased bounce rates, you may be penalized by Google in your search rank.
6. Your marketing isn't helping your sales team develop leads.
What does your sales funnel look like? Do you have an inbound marketing strategy? What content are you putting on your website to pull customers in? According to demandgenreport.com, the top three content formats that B2B buyers seek out to research a purchase decision include: Whitepapers (78 percent), case studies (73 percent) and webinars (67 percent). If you want someone to buy what you're bringing to the table, give them a little taste.
7. Your audience is not engaging with your brand.
Years ago, branding was all about awareness. But now with social media and online shopping, engagement is building the relationships that build the bottom line. Relationships are a give and take. Ask yourself, "What have we done for our customers lately?" Couponing, entertainment, value-added content and informative tips can go a long way to making your customers feel appreciated for their support of you.
8. Your media strategy is the same as it was five years ago.
Digital ads will lead the way for global media growth in the next four years, accounting for 33 percent of total advertising revenue, nearly catching TV in the process, according to the CMO Council. Technology has changed the playing field. We are bombarded by more messages today than five years ago, so how can you break through? Having the right media mix is key. Unless your full-time job is buying media for multiple clients, you can never know all the media opportunities out there. And they are changing daily. An agency keeps tabs on trends and invests and subscribes to the latest research like Nielsen @Plan, Arbitron and CEB that can help you sift through the myriad of vehicles to find the ones that will drive home more bang for the buck.
9. You don't have a loyalty program or are not leveraging it to its full potential.
It's astounding, but 76 percent of Americans think loyalty programs are part of their relationships with brands. It's become part of our culture. We have become savvy consumers and expect something in return for our loyalty. So if you don't have a loyalty program of some kind, you are missing out in increased upsell opportunities. And if you have a loyalty program collecting dust, it's time to brush it off, re-evaluate it and set a strategy to leverage it to build more revenue.
10. You have metrics, but don't have time to analyze and optimize.
The problem with analytics is that they have to be analyzed. Metrics mean nothing if they're not part of a strategic plan to grow business. Having the expertise to analyze and optimize all the metrics from your Google analytics to your media dashboard will guide you to more effective creative and media choices. John Wanamaker, one of the original ad men said: "50 percent of my media is working. I just don't know what 50 percent." That's not true today. We can tell which ad drove a click to call, from what area code and for how long they were on the line and whether a lead was generated. These insights drive dollars.
11. Your marketing has no emotional connection.
When your brand makes an emotional connection, it's a powerful thing. It has a greater impact. Personally, I believe you can emotionally connect through the mind, heart or funny bone. When you do, magic happens. Psychology proves that people relate to brands emotionally and that it can impact their purchase behavior. Just like the best relationships, when you make a connection, you deepen the relationship. You create a shared experience, some common ground that says, "We get you." It's empathy. And isn't that what we all want in this world, someone who "gets" us?
If many of these signs resonate with you, it's a sign you need to start looking for an agency partner (like Brogan, pardon the shameless plug) to help you out. Of course, you don't have to give up your in-house marketing team. We work with many clients that use us as an extension of their team. We work together. Because let's face it, it takes a village. And we offer true partnership that makes your marketing team shine.
So consider giving up some of those hats you are wearing. If you want to test the waters, talk to our Managing Partner, Ellyn Davidson at 248-341-8211 or edavidson@brogan.com and see if we can help you with a project. Who knows, once you wade in, you may even tip your hat in gratitude.