It happens to the best of us. One day, we're on a brand's website scrolling through endless amounts of T-shirts, tote bags and tennis shoes. The next day, pictures of the items we almost purchased seem to be following us around on the Internet. They're saying, "Don't forget me," "I'm still here" and "Buy me before someone else does."
As it turns out, brands that are experimenting with these retargeting ads are seeing great results. Today, a consumer who sees a retargeted ad is 76 percent more likely to convert. For brands, that means more traffic to their website. And even better: More sales.
Reminder: Retargeting is when a brand serves an ad to someone who has previously visited their website. They target them with banner ads and video units across the Internet.
This year, 49 percent of major brands have set aside specific budgets just for retargeting. Which ones are devoting the dollars? Let's take a look.
1. Fossil
Whatever you're searching for on Fossil's website, you're sure to see it again. When I visited their site, I planned to spend some time just looking for a gift idea. I figured I'd see what was available and think about it for a few days. But as soon as I left, I was seeing men's watches everywhere I went. And that's not all. Aside from serving me plenty of familiar ads, they were offering me coupons for free overnight shipping. From social media to news networks, the watch and the incentives stayed top of mind, because they were always right before my eyes. Have I purchased it yet? No. But have I thought more and more about purchasing it? Absolutely.
2. Yankee Candle
What happens when you put a candle in your online shopping cart, but don't actually make the purchase? Yankee Candle had the same question, so they ran a retargeting campaign with the goal of getting these shoppers back on their site. Offering them a simple coupon, they saw great success. According to Google, Yankee compiled a list of 41,000 visitors who had placed items in their shopping carts in the last 60 days, but had not completed their purchases. At the end of their campaign, nearly 10 percent of these shoppers returned to the site, and they saw a conversation rate that was 600 percent higher than normal.

3. University of Florida
In the U.S., there are thousands of graduate schools. And each year, hundreds of thousands of students are expected to enroll. How do they choose which school to attend? At the University of Florida's Hough School of Business, they hoped retargeting would have something to do with it. By keeping the school at the top of potential students' minds with targeted advertising, they served 3.3 million impressions. Of those prospects, 59 people converted—meaning 59 people made the official decision to apply.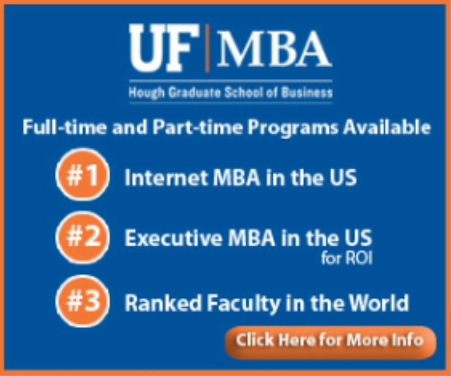 4. JCPenney
You can buy almost anything from JCPenney. Clothing. Kitchen appliances. Camping gear. You name it. Sometimes, I find myself surprised at how endless the possibilities are. Other times, I think about the endless amount of retargeted ads they've created. Almost any time you visit their site, you'll see an ad shortly after. And not only do the items you looked at appear around every corner of the Internet, so do their recommendations for even more items. Think, "If you liked that, you'll love this." Could the strategy be contributing to the store's increase in revenue? We'd be willing to bet.
5. KinderCare
Looking for childcare usually begins with an exhaustive search, and it ends with the organization that promises to treat your child like their own. And usually, for busy parents on the go, location plays a role, too. That's why KinderCare wanted to remind parents there was a convenient location close to where they live, and that if their child enrolled, they'd have access to everything young minds need to grow. Reaching people who had already shown interest in KinderCare, the ads generated 1,700 inquiries—1,700 people contacted the company to learn more. How did that compare to past campaigns? Well, the retargeting ads saw a 116 percent lift in conversion rate. How's that for success?
Ready to start retargeting? Take a look at the 9 best practices for retargeting campaigns.