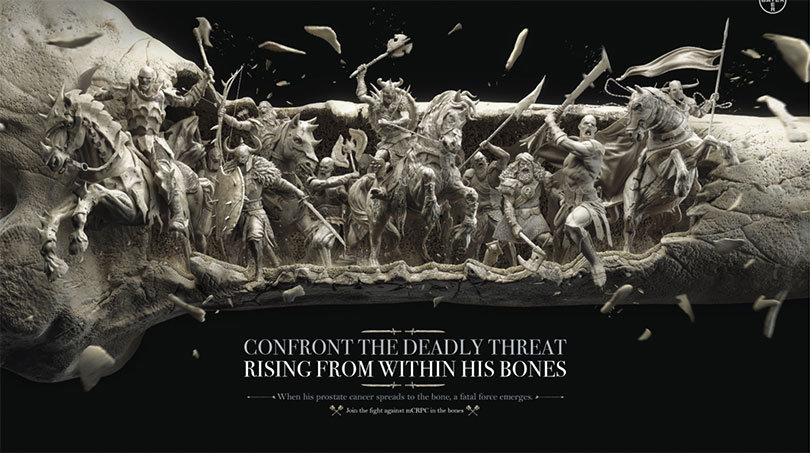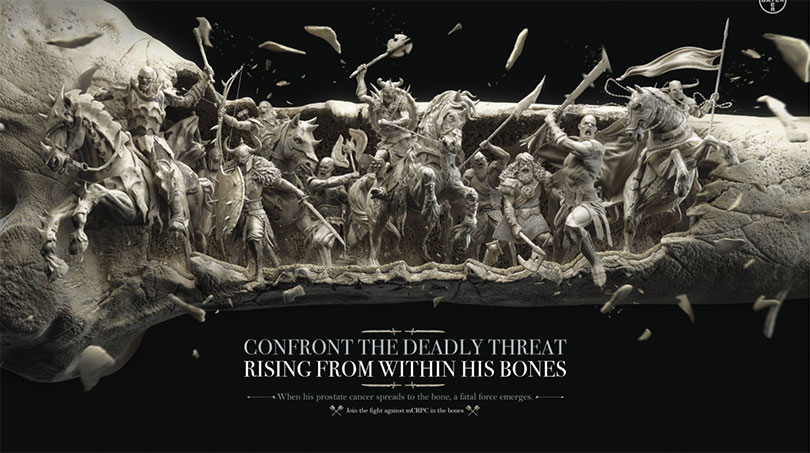 Did you know?
More than 90% of men with advanced prostate cancer will develop bone metastases.
Most men with advanced prostate cancer will experience a dangerous transformation in their disease when primary tumor cells invade the bone.
To share these staggering statistics and inform the general public about the battle many face with prostate cancer and bone metastases, Bayer worked with FCB agency to create a unique and informative print advertisement.
The 2017 campaign went on to win Clio awards and become a talking point for prostate cancer. The eye-catching design shares the simple yet informative message:
"In prostate cancer, the battle for survival is waged in the bone."
Together, and with the right information, we can fight back.
Why we love it
Bayer's print advertisement is one of the only non-video creative examples that made our top ten list. So what helps it earn its spot?
The ad is a still image, but it speaks volumes in both design and messaging. It brings to life a battle that's largely invisible and intangible. With the creative design technique, the audience sees how intense the battle with prostate cancer and bone metastases can be. Because the design is so shockingly eye-catching, they can't help but be prompted to learn more.
To answer that curiosity, Bayer paired the print ad with a similarly branded landing page. The page gives a full rundown on bone metastases from early onset to advanced stages. It backs up the creative message with copious scientific data and sources, making this a well-rounded, informative and memorable campaign.
The campaign and landing page continue to live on and promote lifesaving facts.
This is post #5 in our blog series: Just what the doctor ordered: 10 examples of creative healthcare advertising.