Remember that day a couple weeks ago when it snowed in Detroit even though it was almost May? 
The day after that, everyone in our office was told to wake up at 2 a.m. and head to the airport.
You'd think all of this would have made us Broganites a wee bit cranky, but you'd be wrong. First, because our core value is "Cheerful and joyful." And second, because we were embarking on our annual mystery trip.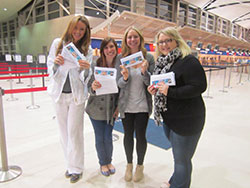 We've told you about our mystery trips before. Basically, the annual adventure is a big, fat, kiss from Brogan to its staff for all the hard work we put in all year. It's a chance for us to rest our brains for four days. It's also an opportunity for us to bond with each other and expand our horizons. Some of the places we've hit since the mystery trip tradition began in 1995 are Iceland, New Orleans, London, Washington D.C., Amsterdam, and Miami.
As a mystery trip planning alumna, it was painful not knowing exactly how to pack (I surprised our crew in 2010 for our last tropical destination to Jamaica). For this trip, we were told to show up at that unholy hour with our passports and the only clearly deciphered clue: swimsuits and sunscreen. We had no earthly idea where we were going. This year's trip organizer, Lauren Zuzelski, had sent some clever but confounding clues like "The trip will be magically delicious" and "Limbs point southwest." But nobody had cracked the code.
Only when it was time to head to security were we handed our tickets to . . . Aruba!
After that, we were so cheerful and joyful that it made the news.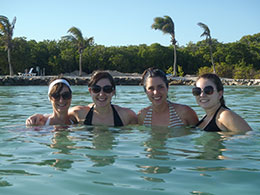 On our layover in Atlanta, we picked up several of our staff from the Raleigh, North Carolina office. We made it to our all-inclusive Aruban resort in time for a late lunch.
I'm not gonna lie. It was luxurious. Our resort had a private island where we shared the beach with a small flock of flamingos. We spent hours on chaise lounges, napping, chatting, and reading. When we needed a little activity, we drummed up beach volleyball games, hit the pool (and the swim-up bar), played Euchre, or tried our luck at catching one of the roaming native iguanas.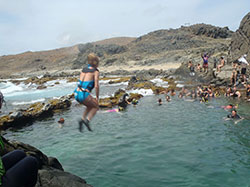 We also got a chance to see Aruba's gorgeous, uninhabited northern side by taking a jeep tour. Our guide filled us in on the tiny, desert island's fascinating history while bouncing us along winding, rocky trails. Midway through this trip, we got a chance to swim and snorkel in a stunning natural pool. Like fretting mother hens, our CEO and managing partner, Maria Marcotte and Ellyn Davidson, had to hide their eyes when some of the Broganites decided to use the pool's rocky surround as a high dive.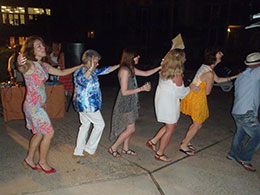 That's the thing about a Brogan mystery trip. It feels like a family vacation. Our only "official" get-togethers in Aruba were a Friday night dinner and our jeep tour, yet we chose to spend most of our other hours together. On our trip's last night, we almost sent one of the hotel's sleepier restaurants into crisis mode when all 29 of us showed up for dinner. The evening lasted for hours, but nobody was in a hurry to leave.
Brogan regularly receives "great place to work" recognition. There's no doubt that our mystery trip perk is one reason why. But the real reason Brogan is a happy workplace is because we love to work together. If we didn't have so much fun at our jobs every day, these getaways wouldn't be nearly as special. We go together to places unknown, whether we're talking about travel or new frontiers in the marketing world. And that's why none of us were surprised when we spent part of our Aruban weekend hatching plans for an exciting new Brogan project while we were there.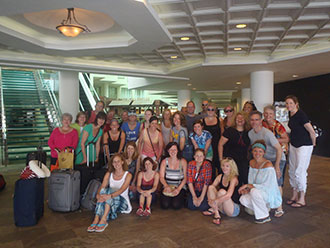 We're here at Brogan, not because of the mystery trips, but because we love our work. We do it cheerfully, joyfully and yes, occasionally on a beach with mojitos in hand.