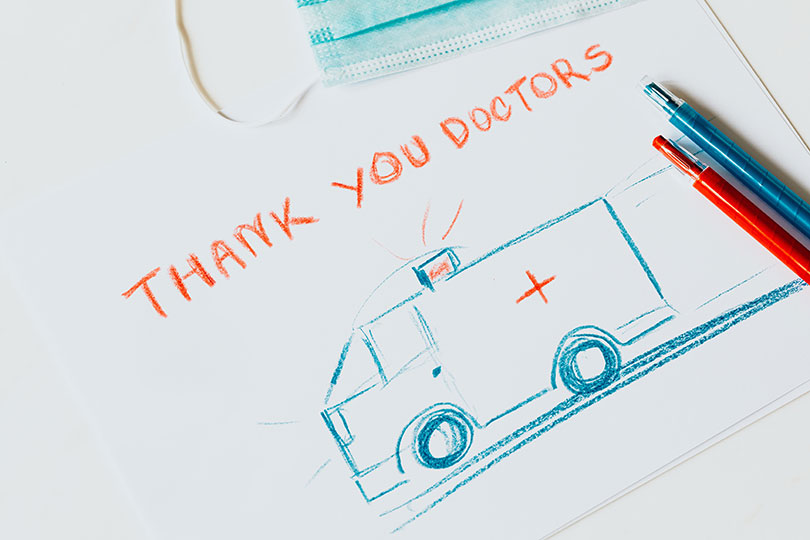 In mid-March, when healthcare workers became more essential than ever, I read something that struck me… and stuck with me.
"Want to know how it feels to be a healthcare provider during the coronavirus pandemic? Just picture the Titanic sinking… and the band still playing."
 It hit home because my husband is a physician assistant. Specifically, a physician assistant who's giving COVID tests and interacting with positive patients. And while he's been a true trooper from the beginning, focused on keeping metro Detroit happy and healthy, it's been an emotional experience.
For me, the wife staying home with the new baby, watching him walk out the door is still scary. But it's also been incredibly eye opening. You see, I've had the unique opportunity of watching my husband become so overwhelmingly appreciated – getting praise both big and small. And as an advertiser, I couldn't help but notice the brands that went out of their way to say thanks.
With that, here are five companies that showed their support for my personal healthcare hero:
Progressive – Progressive holds our home and auto insurance policies, and that's a choice that was driven entirely by price. We've bounced from company to company – motivated by the coverage and the cost, but not necessarily the carrier. This year, however, Progressive has us feeling a little more loyal. Before their Apron Relief Program was unveiled (more on this in a minute), they emailed us a $50 Uber Eats credit, thanking my husband for all he was doing, despite all the uncertainty. Their message read, "No words can express how grateful we are to our first responder and healthcare customers working during the COVID-19 pandemic. To help, we're taking some extra steps to support you on the front lines by offering you enhanced claims service and an Uber Eats meal." They made it so we were willing to try takeout for the first time in 47 days, which then got us more comfortable with curbside pickup and no-contact delivery. Then, in the time that followed, Progressive also announced they'd be issuing 20% premium credits. Thus, in April and May, our credit card was refunded for a portion of our car insurance. And who wouldn't want that? (Bonus read: Our client, Frankenmuth Insurance, soon followed suit.)
 The North Face – To my knowledge, The North Face was one of the first clothing companies to offer such a heartfelt discount to healthcare workers. So when our brother-in-law (who works in the University of Michigan's radiation oncology department) sent us the link to their landing page, we were seriously surprised. An enormous brand was offering an even more enormous incentive, and it led to us filling an enormous virtual shopping cart. Their site read, "As a small show of our heartfelt gratitude for their dedication and bravery in the face of the COVID-19 pandemic, from April 14, 2020 to Dec. 31, 2020 we will be giving a 50% discount to healthcare workers in the United States." Fifty percent off? For the rest of the year? Yes, please! Since The North Face products are typically a higher price point, we're thinking new coats for everyone. And, of course, every season. (I'm already imagining our baby in a snowsuit, and the chance to pay it forward with winter coat drive donations.)
Kate Spade – Kate Spade had our back. Literally. Toward the beginning of the pandemic, they asked fans of the brand to nominate essential workers… then sent 5,000 new backpacks to heroes on the front lines. Their official messaging was, "Nominate an essential worker in your community that you'd like the chance to say thank you to, for everything they've done and continue to do in our new normal." Now, most know Kate Spade tends to appeal to female fashionistas, but nonetheless, my husband was nominated by a friend or family member. He received one of their trendy nylon backpacks, valued at $299. (And… it may or may not be mine now, but that's beside the point.)
bp & Amoco – For us, bp's generosity is one of those "better late than never" situations, as we stumbled upon it a few months into the spread of COVID-19. Initially, the gas brand was offering 50-cent discounts on every gallon of gas. It's now 15 cents for 60 days, but being as my husband is reporting to urgent care clinics in Royal Oak, Bloomfield Hills and Waterford, it's still an incredible incentive – available to doctors, nurses, hospital workers and first responders.
Nike – Our family of three thrives in comfy clothes. As we stay home and stay safe… we also stay in our pajamas. So, it makes perfect sense that we're excited about Nike's exclusive offer. Apparently, the brand has always had a first responder and medical professional discount (news to us!), but for a limited time, they've increased it from 10- to 20%.
Now, do any of these gestures put a stop to the spread of the coronavirus? Of course not. But… do they work wonders by way of surprising and delighting healthcare workers? Absolutely.
People like to see brands taking these actions like this to help the community. In fact, according to eMarketer, 56% of respondents in a March survey said they were pleased to hear about brands making donations of goods and services. And for what it's worth, so am I… and so is my husband.
For more insights on brand behavior in 2020, read our blog: Brands and racial justice: Why companies should show support.