It's that time of year again when Starbucks goes holiday red, adding a pop of color and caffeine to every cup. Something about this traditional holiday promotion has one consumer group seeing red. We've got the skinny, the grande and the ugly.
The skinny.
Since 1997, Starbucks has kicked off the holiday season with a unique cup. Every year features a new design that, at times, has incorporated symbols of the season such as reindeer, Christmas trees, vintage ornaments, etc. During the season, Starbucks offers holiday favorites like the Peppermint Mocha, Chestnut Praline, Gingerbread and Eggnog flavored hot and cold beverages.
"Holiday beverages have been a highly anticipated tradition at Starbucks since Christmas Blend was introduced in 1984," said Cliff Burrows, Group President for business leads in the United States and Americas. "We are honored to be a part of our customers' yearly holiday traditions, and every year, we look forward to bringing back favorite holiday beverages that evoke the spirit of the season."
Starbucks noted that within the first 48 hours of launching the red cups last year, a photo of the holiday cup was shared on Instagram every 14 seconds. With that in mind, Starbucks launched the #RedCupContest on Instagram this year, encouraging users to post their most creative photo with the cup and tag it with the promotional hashtag for a chance to win a Starbucks gift card. To date, the hashtag has more than 38,000 posts on Instagram.

This year's design features a two-toned gradient design, with a fire engine red on top that fades into a dark cranberry at the bottom. Starbucks Vice President Jeffrey Fields stated, "In the past, we have told stories with our holiday cup designs, this year we wanted to usher in the holidays with a purity of design that welcomes all of our stories."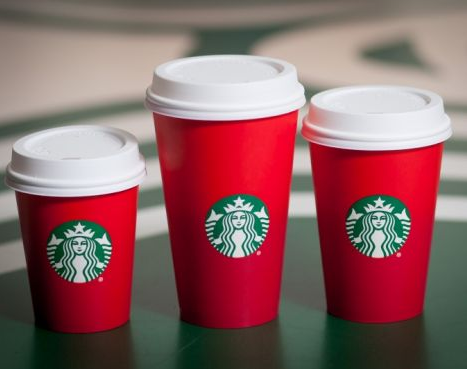 Image By David Dewitt
He went on to say, "Starbucks has become a place of sanctuary during the holidays. We're embracing the simplicity and the quietness of it. It's more open way to usher in the holiday."
The ugly.
So what could possibly be the matter? Apparently, it was the lack of holiday symbols.
Social media personality and Evangelical pastor Joshua Feuerstein was offended by the new design and took to his social channels to share his disappointment. Claiming that Starbucks took "Christ and Christmas off of their brand new cup," Feuerstein posted a video to Facebook to discuss the matter further, encouraging his supporters and Christians alike to do the same.
Although many followed in the rage, convinced the red cup campaign is a "war on Christmas", many also took to social media to support Starbucks. Even Christian spokesperson and actress Candace Cameron Bure weighed in on the design. Bure posted a photo of the red cup with the following caption:
"Starbucks War on Christmas? It's a red cup, folks. Until Starbucks puts a baby Jesus or nativity scene on the cup while saying Merry Christmas, then pulls it because they say it's offensive, let's talk. I don't remember Starbucks ever being a Christian company, do you? A Santa, a snowflake, some holly, a polar bear, some jingle bells or plain red cup don't define Christmas for me as a Christian. My relationship with Jesus does. So, I will joyfully sip on my Starbucks coffee, in a plain red cup, and instead of complaining about the lack of decorations, I will lovingly share the good news of Jesus Christ with friends and co-workers or anyone who's willing to engage in conversation. Merry Christmas to all!"
Donald Trump even got in on the action, suggesting a Starbucks boycott. Trump asked an audience of 10,200 people, "Maybe we should boycott Starbucks, I don't know. Seriously. I don't care. By the way: That's the end of that lease but who cares?"
The grande.
While this may appear to be bad publicity for the brand, Starbucks is not suffering. On Instagram alone, the hashtags:
#RedCup has been posted more than 254,000 times
#MerryChristmasStarbucks was posted more than 5,800 times
#RedCupContest has been posted more than 38,000 times
#RedCups has been posted more than 129,000 posts
Despite some consumers seeing red over the new cup design, Starbucks has been the trending topic on Facebook, Twitter and Instagram. Their product is not only serving customers, but our social feeds too. This uproar is only adding to Starbucks' brand exposure and reach, further emphasizing their place in the holiday season.
For more information about food brands on Instagram, be sure to check out 7 inspiring food brands and bloggers on Instagram.