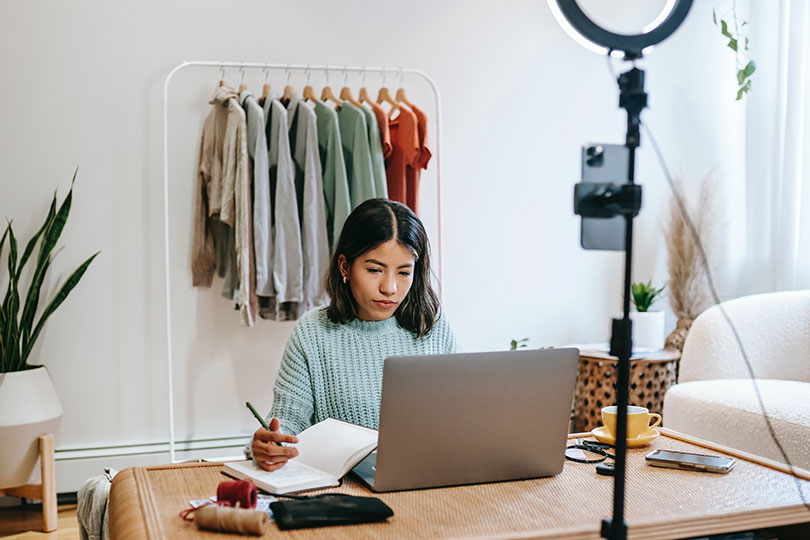 You might not realize it, but you follow a social media influencer. I'm sure of it. You've seen a celebrity endorse a product on Instagram. A movie star wearing a brand's clothes. A musician drinking a brand's drink. A billionaire supporting a brand's cause. These are all social media influencers – people who are paid to promote a product to their following, with the goal of boosting a brand's business, However, as eMarketer so eloquently states, there are only so many Kardashian-Jenners out there… and only so many brands that can afford them.
With that, the data, insights and analysis giant is predicting 2022 will be the year of the micro- and nano-influencer. Or, someone with a social media following that's larger than a normal person's, but smaller than a celebrity's. So, if you're starting the near year looking for new ideas, consider driving sales with a small-scale influencer, who is more likely to partner with a brand they love, want to support and share with their audience. (That's you!)
Here are four things to know about this new opportunity:
Bigger isn't always better. Of course, it makes sense that the more followers a social media influencer has, the easier it will be for a brand to achieve their objectives. However, smaller influencers can actually give brands more bang for their buck. For example, their smaller size makes them more affordable partners. Data shows 7% of influencers with 1,000 to 10,000 followers charge up to $100 per Instagram post, while 76.9% of influencers with over 1 million followers charge $1,000 or more. That makes them 90% cheaper!
A smaller following means a stronger bond. Micro- and nano-influencers run close-knit communities – usually serving a niche audience with similar interests. And in eMarketer's work with these types of influencers, they discovered stronger relationships built on authenticity, expertise and trust. Thus, consumers are more likely to act based on their recommendations. In fact, a study by Social Bakers showed micro-influencers boast up to a 60% increased engagement rate and have more than a 20% higher conversion rate. How's that for earning some e-commerce sales?
You'll be in good company. Coca-Cola, Sephora and Sperry have already recruited micro- and nano-influencers, and more brands are sure to follow. In fact, according to data from influencer marketing platform Linqia, 90% of marketers in the U.S. said they wanted to work with influencers who have between 5,000 and 100,000 followers. And with that, eMarketer estimates ad spend on influencer marketing will surpass $4 billion in 2022, with a rising share going to smaller influencers.
They'll have even more resources soon. Smaller influencers haven't had access to social platforms such as the TikTok Creator Marketplace and Instagram's Branded Content tools. However, that will change in 2022. Already, Instagram has made their link sticker in Stories available to all users – making an effort to engage influencers of all sizes. And we're willing to bet that's just the beginning.
Want to learn more about what's unfolding in our industry? Be sure to subscribe to our blog to get updates about what's new and what's next. Happy marketing!