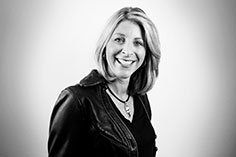 BIRMINGHAM, Mich., Jan. 30, 2017 — The National Women's History Project is recognizing Ellyn Davidson, president of Brogan & Partners, with a Career Mastered Leadership in Action Award. Ellyn, along with the other honorees, will be recognized at an Awards Dinner on Wednesday, March 1, 2017 at the Henry Autograph Collection Hotel in Dearborn, Michigan.
Career Mastered is a growing global women's business collaborative. Career Mastered presents the leading Women's History Month Awards to honor amazing women who have made a compelling mark on business and are exceptionally strong role models of what a woman can do.
"In alignment with the National Women's History Month theme, Honoring Trailblazing Women in Labor & Business, we're thrilled to honor remarkable women like Ellyn who make a difference each and every day while inspiring future generations," said Lisa Lindsay Wicker, founder of the Career Mastered Women's Global Business Collaborative and Women's History Month Leadership in Action Award.
Since joining Brogan & Partners in 1994, Davidson has managed advertising and marketing programs for healthcare, government, nonprofit, economic development and other governmental agencies. She has extensive experience in new product and new program launches.
Davidson has received several honors and awards for her dedication and commitment to the community. She was recognized as an Esteemed Woman of Michigan by the Dr. Gary Burnstein Health Clinic and named a RARE Everyday Hero by Winning Futures. Under her leadership, the Karmanos Cancer Institute recognized the agency as a Hero of Breast Cancer in 2014.
Brogan & Partners
Brogan & Partners helps clients more effectively connect with target audiences, amplify their brand and grow business. Since 1984, our work has attracted brands large, medium and small in healthcare, governmental, financial services, utility, nonprofit and retail industries. We consistently deliver results—increasing consumer awareness, engagement and revenue. The agency is headquartered in Birmingham, Mich. and has an office in Morrisville, NC. For more information, visit www.brogan.com.