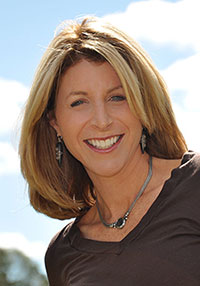 DETROIT, June 4, 2015 — Ellyn Davidson, managing partner for Birmingham-based marketing agency Brogan & Partners, has been named to the Facing Our Risk of Cancer Empowered (FORCE) Board of Directors. For more than 16 years, FORCE has been the national voice of the hereditary breast and ovarian cancer community.
"We are proud and grateful to welcome Ellyn Davidson to the FORCE Board of Directors," said Sue Friedman, executive director and founder of FORCE. "Ellyn has been a long-time FORCE supporter and committed volunteer. Her experience as a breast cancer survivor, fundraiser and business leader will be of great value to our organization."
Davidson has been an advocate for the hereditary breast and ovarian cancer community for more than seven years, serving as a FORCE outreach coordinator and a team leader for Susan G. Komen for the Cure. In her role as outreach coordinator in metro Detroit, she has worked with other volunteers to support women, men and families who are affected by hereditary breast and ovarian cancer.
"FORCE has helped me, and I've personally witnessed many, many women persevere through an incredibly difficulty diagnosis with the support of FORCE," Davidson said. "What's more, FORCE is a powerful advocate for the hereditary cancer community, raising awareness and garnering support. I'm honored and thrilled to be part of this amazing organization."
About Brogan & Partners
Brogan & Partners creates and converges advertising, social media and mobile media with an emphasis on brand engagement and a specialty in marketing to women. Since its start in 1984, Brogan & Partners has built a solid reputation on results-driven campaigns that build brands, transform opinions and deliver consistently excellent ROI for its clients. The agency is headquartered in Birmingham, Mich. and has a service office in Cary, NC. For more information, visit www.brogan.com.
About FORCE
No one should have to face hereditary breast and ovarian cancer alone. FORCE is the voice of the HBOC community, providing support, education, research and awareness to help those facing hereditary breast, ovarian and related cancers know their options and make informed healthcare decisions. The organization is the de facto leader in guiding critical research and policy issues that impact the HBOC community. For more information about FORCE and hereditary breast and ovarian cancer, visit www.facingourrisk.org.