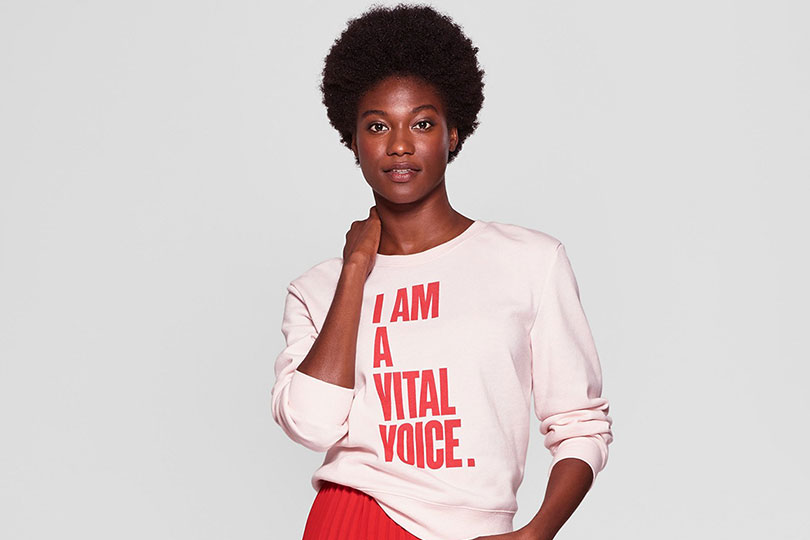 Power Suite
Target's latest fashion collaboration targets socially conscious. Target has long focused on the fashionista, partnering with the likes of Mizrahi, Missoni and Victoria Beckham. Now the retailer wants to appeal to shoppers on a deeper level, tapping into the socially conscious. Its latest collection is designed with Vital Voices, a nonprofit that helps women tackle a range of social issues, Target's A New Day + Vital Voices collection is emblazoned with slogans like "Use Your Power to Empower."
+Taking fashion cues from activist designers like Ariela Suster, whose Sequence jewelry is handcrafted by young at-risk El Salvadorans, the limited-edition collection of clothing and accessories is being sold online and at 1,000 Target stores nationwide. Affordably priced from $5 to $40, each piece is tagged with Vital Voices info, and Target.com's A Bullseye View features video interviews with the women who inspired the line.
Hair Apparent
Because women shave too. With the immense success of low-frills, high-quality and direct-to-consumer shaving kits for men, brands are acknowledging women as an underserved market (Fashionista.com, 16 October 2018).
+A sister brand to Harry's, Flamingo is a female-focused body-hair-care brand offering razors, waxing kits, shave gels and body lotions. Flamingo products are designed with specific functionality for women, based on years of consumer-driven research on hair-removal routines. Billie also targets women with direct-to-consumer razors, offering a contoured handle, two five-blade cartridges and a magnetic holder for $9. Each brand stands out from past examples by emphasizing that women need not follow hairless beauty standards.
Haute Dog
Another myth dismissed. According to a Centers for Disease Control report on fast-food consumption in America, people at higher incomes eat more fast food than lower earning survey respondents (Vox.com, 24 October 2018).
+Dispelling myths, 42% of people earning above $100,000 per year were found to consume fast food daily, whereas only 32% of people earning less than $30,000 answered the same. A study from last year postulated that convenience, or a lack of time, may drive fast-food dining for the affluent. Fast food is most likely to be consumed for lunch, likely because Americans are working more hours with shorter lunch breaks.
Reboot, Review & Relate
Hey Google, show us a shot-for-shot recreation of "Home Alone." This month, Google gifted the world with a commercial we never knew we needed, in which Macaulay Culkin reprises his role as Kevin McCallister, the beloved little boy from "Home Alone."
2019: The year smartphones scan for food poisoning? Siri, will that food make me sick?
According to NPR, researchers are eager to develop a smartphone device that will identify harmful bacteria like E. coli and salmonella — both of which can cause foodborne illness.
A school fundraiser parents are psyched to support? It's real. Instead of hosting fundraisers upon fundraisers throughout the year, an elementary school in Lexington, Kentucky tried a new tactic that's both hilariously straightforward and refreshingly relatable.